New Chip Scale Atomic Clock with Frequency Tolerance of 0.05 ppb
Press Release Summary: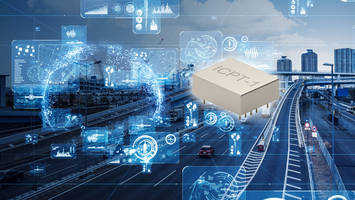 ICPT-1 is available with a current consumption of only 500 mA at 3.3 V
Uses coherent population trap method to obtain stable frequency
Ideal for synchronisation or as reference clock in satellite & secure communications
---
Original Press Release:
IQD Presents its New Atomic Clock ICPT-1
The perfect addition to IQD's rubidium oscillator portfolio
Waldenburg (Germany), 25 November 2020 – IQD, a subsidiary of the Würth Elektronik eiSos Group, is pleased to present its new chip scale atomic clock (CSAC), ICPT-1. The ICPT-1 uses the Coherent Population Trap (CPT) method to obtain a very stable frequency.
While common rubidium oscillators detect the atomic transition with the help of a rubidium discharge lamp (Rb lamp), the ICPT-1 uses a laser to induce quantum transitions. A major advantage of the laser is a much lower power consumption. Additionally, the life cycle of a Rb lamp is very limited – typically around ten years – whereby the laser has a much longer life expectancy.
Users have the possibility to connect either an external 1 PPS input or take the internal clock for a 1 PPS output for synchronisation in various applications. Whilst in free running mode, relying on the internal clock of the ICPT-1 as the source of the 1 PPS signal, the ICPT-1 offers a suitable holdover behaviour. Digital frequency adjustment and optional 1 second time of day (TOD) counter can be accessed via a UART serial communication interface.
Housed in a 36.0 x 45.0 x 14.5 mm package, the ICPT-1 is smaller compared to traditional rubidium oscillators and comes with a current consumption of only 500 mA @ 3.3 V typically. With its frequency tolerance of 0.05 ppb, its short term stability of 0.09 ppb @ Tau = 1 s and its ageing of only 0.03 ppb per day this product is comparable to common standard Rubidium products.
Among others, the device is ideal for synchronisation or as reference clock in satellite & secure communications, navigation systems and also in financial, utility, security and communications timing applications.
For full details on the ICPT-1 please visit www.iqdfrequencyproducts.com.
About IQD
Backed by over 40 years' experience in the manufacture of frequency products, IQD is a recognised market leader in the frequency control market and part of the Würth Elektronik eiSos Group, one of the leading European manufacturers of passive components. With active customers in over 80 countries, IQD offers one of the most comprehensive frequency product ranges available, from low cost commercial grade product to that used in high reliability industrial and automotive applications including: Quartz Crystals, Clock Oscillators, AEC-Q200 Crystals & Oscillators, VCXOs, TCXOs, OCVCSOs & OCXOs, GPS Disciplined OCXOs, and Rubidium Oscillators.
Further information at www.iqdfrequencyproducts.com
About the Würth Elektronik eiSos Group
Würth Elektronik eiSos Group is a manufacturer of electronic and electromechanical components for the electronics industry and a technology company that spearheads pioneering electronic solutions. Würth Elektronik eiSos is one of the largest European manufacturers of passive components and is active in 50 countries. Production sites in Europe, Asia and North America supply a growing number of customers worldwide.
The product range includes EMC components, inductors, transformers, RF components, varistors, capacitors, resistors, quartz crystals, oscillators, power modules, Wireless Power Transfer, LEDs, sensors, connectors, power supply elements, switches, push-buttons, connection technology, fuse holders and solutions for wireless data transmission.
The unrivaled service orientation of the company is characterized by the availability of all catalog components from stock without minimum order quantity, free samples and extensive support through technical sales staff and selection tools.
Through its technology partnership with the Audi Sport ABT Schaeffler Formula E Team and its support for the Formula Student racing series, the company demonstrates its innovative strength in eMobility (www.we-speed-up-the-future.com).
Würth Elektronik is part of the Würth Group, the world market leader for assembly and fastening technology. The company employs 7,300 staff and generated sales of 822 million euros in 2019.
Würth Elektronik: more than you expect!
Further information at www.we-online.com
IQD Frequency Products Ltd, Rebecca Long, Station Road, Crewkerne, Somerset, TA18 8AR, United Kingdom
Phone.: +44 (0)1460 270270, E-mail: rebecca.long@iqdfrequencyproducts.com.
More from Agricultural & Farming Products