New ChemTank Cover Helps Reduce Heat-loss and Evaporation
Press Release Summary: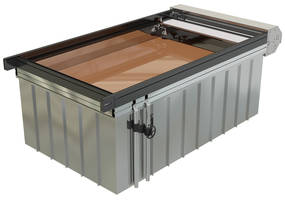 Roll-up design offers manual or drill-drive operation
Includes PVDF-coated PVC shade and compatible hardware
Designed to accommodate wide range of tank applications including chemical and surface finishing, anodizing, etching, plating and cleaning
---
Original Press Release:
Dynatect Introduces Economical Roll-up ChemTank Cover™ to Improve Efficiency, Productivity and Environmental Conformance
New Berlin, WI – Dynatect introduces the ChemTank Cover™, a corrosion-resistant chemical tank cover developed in response to the demand for convenient and space-saving options. The cover is designed to accommodate a wide range of tank applications including chemical and surface finishing, anodizing, etching, plating, cleaning and more. The cover system helps reduce heat loss and evaporation. Its roll-up design offers easy manual or drill-drive operation.
"We've heard from the market that the current solutions for covering tanks are less than ideal," said Eric Esson, "citing concerns about durability, ergonomics, complexity, or price." Productivity and ergonomics are a concern where wood, PVC, or metal static plates are considered cumbersome and time-consuming. Dynatect's engineering team also noted that they've seen much variation in process tank setups and layouts. Historically this resulted in time-consuming and expensive custom engineered solutions since a more "universal" modular design was not available. Dynatect has since developed a standard, purpose-designed solution that could be applied to a wider breadth of tank applications which also accommodates obstructions over the side of the tank such as hoses/piping, agitators, etc. The roll-up design also saves space, allowing the application to side-by-side tank installations.
To maximize chemical and temperature compatibility, Dynatect's ChemTank Cover includes a PVDF-coated PVC shade and compatible hardware. A stainless steel wiper removes the any condensation from the cover as it is retracted. The ChemTank Cover is for tank opening widths from 24 to 80 inches. The roll-up feature can be applied to tanks up to 60 feet long which often can't be addressed by fixed plate alternatives.
To evaluate their return on investment for applying a ChemTank Cover, facility managers should consider if they are losing money due to evaporation or energy efficiency due to continuously heating open tanks. Covers are also a logical approach to improving the work environment and air quality. Considering ergonomics and the necessity to contain hazardous fumes, ChemTank Cover may appeal as a regulatory countermeasure. With a roll-up design that's easily opened and closed, operators need not struggle with manually lifting and adjusting panels, which also pose a splash risk. The roll-up design also eliminates the challenge of where to store manual cover panels. The cover efficiently travels at about 1 foot per rotation.
Dynatect designs and manufactures a wide variety of industrial roll-up covers for use in manufacturing, foundry, processing, and plating facilities. The ChemTank Cover has already been engineered for maximum compatibility with both new and retrofit installations. While there can still be applications outside the scope of the ChemTank Cover, Dynatect continues to offer the Steelflex metal roll-up cover as an alternative.
The new ChemTank Cover is manufactured in New Berlin, Wisconsin and supported nationwide through a network of over 60 technical field sales representatives who can be found on the Dynatect website. More information including a summary brochure can be found online at: https://dynatect.com/chemtank
About Dynatect
Dynatect delivers custom motion and protection for machines with deep application knowledge, diverse product offering, and a customer responsive sales philosophy. Dynatect provides engineering and manufacturing for custom applications which improve human-machine safety and machine uptime. Dynatect continues to build on its customer experience through improving service differentiation, expanding product portfolio, and reducing lead times. www.dynatect.com
Contact:
Jessica Mallinus
Marketing Communications Manager
Tel. (262) 786-1500 x 6136