New Chemicals and Reagents Filled in 1L and 4L CHEM+POUR Bags
Press Release Summary: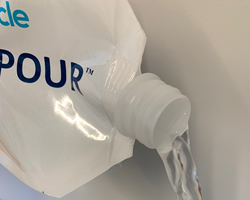 Includes 10X Tris buffered saline, 10X sodium phosphate buffer and USP purified water
Available with 0.1N hydrochloric acid and 20% ethanol
Meets specifications for USP sterile water for irrigation
---
Original Press Release:
Lifecycle Biotechnologies Introduces Simple Lifecycle Chemicals and Reagents
Lifecycle Biotechnologies is introducing its new Simple Lifecycle off-the-shelf offering of some of the most commonly used reagents across the life science industry.
Fort Worth, Texas (PRWeb) January 14, 2020 -- Lifecycle Biotechnologies announces the new line of chemicals and reagents filled in their 1L and 4L CHEM+POUR Bags, which were designed to provide an evolved experience as compared to bottles and to support aseptic Manufacturing. All specifications have been aligned with what the life science industry is accustomed to purchasing, to provide a simple plug and play solution. The new Simple Lifecycle line of ready to use chemicals and reagents includes:
Water, Sterile Filtered – Meets Specifications for USP Sterile Water for Irrigation
0.9% Sodium Chloride – Meets Specifications for USP Sterile Saline for Irrigation
10X Tris Buffered Saline
10X Sodium Phosphate Buffer
USP Purified Water
0.1N Hydrochloric Acid
USP 71 Sterility Tested, Sodium Azide 5% w/v
10% Dimethyl Sulfoxide (DMSO)
20% Ethanol
0.1M Sodium Hydroxide
"Fact is supply chains are complicated. The demands of running a business doesn't allow for a slow process to get what you need. When you have a need you need an immediate solution. This is where our new line of Simple Lifecycle products come in," said Aaron Schieving, Vice President, Sales and Marketing for Lifecycle Biotechnologies. "It will allow our partners, existing and new, to simply get what they need quickly to best fulfill their needs and meet their timelines."
With the Simple Lifecycle line of products also comes the benefit of an 84% reduction in waste that the CHEM+POUR bags provide, as compared to bottles. Other than using the CHEM+POUR Bags, there is no other action necessary to gain this reduction in waste. To enhance the sustainability and reduce waste even further, these products would also be eligible for their Sustainable Lifecycle Recycling Program. As a medical grade plastic manufacturer, Lifecycle is committed to making a difference; their commitment starts with a recycling program unlike any other life science supplier for their packaging. The CHEM+POUR Bags are eligible for their Sustainable Lifecycle Recycling Program and as part of this program Lifecycle will collect the packaging waste once empty, to clean, cut, regrind, and repursue into new plastic products. This program ensures this packaging waste is kept out of the landfill or the oceans and will help break the negative impact associated with the industry's plastic addiction.
"The fact that we can simultaneously simplify your supply chain and build sustainability in your process with these new Simple Lifecycle products is a big deal. We are excited about it as it truly allows us and our partners to make a difference." said Schieving. "You start by doing something different, even if it feels like it's really small and really pointless as even small actions like that can have a ripple effect that lead to a much greater impact. Will you help us make a difference?"
Lifecycle also offers septum caps, spike adapters, luer to spike connectors, as well as other supplementary components to support a multitude of applications in addition to pouring for the Simple Lifecycle products.
To learn more about Lifecycle Biotechnologies, the industries it serves, or to get a quick quote on any of these products to use to compile your order so we will get these reagents in your hands ASAP, please contact Lifecycle Biotechnologies at info@lifecyclebio.com, 817.840.7855, or http://www.lifecyclebio.com. You can also find more information in the 2020 Lifecycle Prospectus.
Based in Ft. Worth, TX, Lifecycle Biotechnologies has served the life science industry for over 40 years. Lifecycle's products are the beginning of the lifecycle of the lifesaving and life-enhancing medical products used globally today. As a leading life sciences tools and service supplier, Lifecycle fully understands the critical role its products play in many of the world's leading pharmaceuticals, medical devices, biologics, diagnostics, cellular agriculture, cell- and tissue-based products, and many other medical products. While Lifecycle's products aren't used to diagnose, treat, or cure patients, without their contribution, none of this would be possible.
Contact Information:
Aaron Schieving
Lifecycle Biotechnologies, LP
http://www.lifecyclebio.com
+1 9706859100
More from Machinery & Machining Tools