New ChekVolt® with Voltmeter Compatible Test Points
Press Release Summary: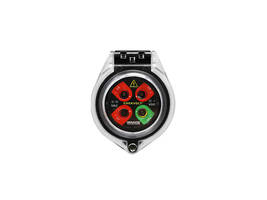 Features redundant LED voltage presence indication rated up to 1000 VAC/VDC
Allows users to test voltage without opening enclosure doors
Can take voltage readings by inserting insulated meter probes with .080" tips
---
Original Press Release:
Grace Technologies Adds New ChekVolt® Lockout/Tagout Safety Device to Portfolio
Davenport, Iowa --- Grace Technologies is pleased to announce the new ChekVolt allows users to test for absence of voltage and provides voltage presence LED indication; all without opening enclosure doors. The ChekVolt® is a Permanent Electrical Safety Device (PESD) that allows absence of voltage testing to be performed safely by qualified electricians using their trusted voltmeters.
GracePESDs® users report Lockout/Tagout (LOTO) procedure time reductions of 35-40 minutes. ChekVolt pays for itself after 6-8 LOTO procedures from time savings alone. This touch-safe, compact PESD features voltmeter compatible test points and redundant LED voltage presence indication rated up to 1000 VAC/VDC. The ChekVolt is quickly installed through a single 30mm knockout and includes four lead wires potted in the construction–making LOTO in even the harshest environments safer, smarter, and more productive.
By inserting insulated meter probes with .080" tips into any two test point jacks, you can take a voltage reading with your properly rated test equipment. With the addition of a ChekVolt® within any electrical safety program, by following the proper safety procedures outlined in NFPA 70E, the user's risk of arc flash or shock hazard are significantly reduced. Additionally, this PESD has also made compliance easier by reducing the margin of human error that results in LOTO being one of OSHA's most cited violations each year.
"The development of this new ChekVolt® will bring optimized electrical safety to more doors and consequently, more people," said Drew Allen, President & CEO of Grace Technologies. "Our team is very proud to provide a safer and more productive method of performing LOTO, which is critical for minimizing injuries in the workplace and maximizing equipment uptime."
About Grace Technologies, Inc.
Grace Technologies is making maintenance safer, smarter, and more productive as a designer and manufacturer of the most innovative electrical safety products and predictive maintenance solutions. Our products are sold through a global distribution network with sales presence in 60+ countries around the world. Grace's engineers develop intuitive solutions for a wide variety of application challenges that industries are facing today. From GracePort® panel interface connectors and GracePESDs® voltage indicators/portals to GraceSense™ asset health monitoring IIoT devices, Grace is contributing each day to a safer, more productive, and brighter future.
Contact:
Nick Schiltz
Telephone: +1-563-823-5523
Email: NSchiltz@GraceTechnologies.com
Website: www.GracePort.com
More from Safety & Security Equipment