New Cell-U-Clean Mini jet Washer for Small and Large Parts up to 500 Lbs
Press Release Summary: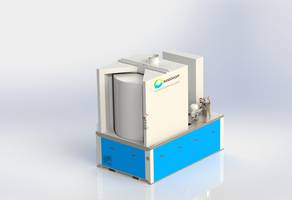 Available with size 5 ft. wide x 8 ft. long x 7.6 ft. tall
Made from stainless steel and comes with a robot loading option
Provides reliable solution for high-volume cleaning needs for tjose small part cleaning applications
---
Original Press Release:
Ransohoff Introduces The Cell-U-Clean Mini Jet Washer for High Volume Parts Cleaning Applications
April 14, 2021 – Cincinnati, OH - Ransohoff, a division of the Cleaning Technologies Group LLC, has introduced its Cell-U-Clean Mini Jet spray cabinet. This new small footprint platform provides an energy efficient, reliable solution for your high-volume cleaning needs, along with an innovated design for those smaller part cleaning applications.
The Mini Jet a member of our Cell-U-Clean line of parts washers, is an excellent cabinet washer for both small and large parts up to 500 Lbs. where floor space comes at a premium. This spray washer was designed as a high-capacity solution with low energy as an alternative to our heavy-duty cabinet washer product line. The rotary hide away door eliminates the extra floor space required for the door swing while ensuring a dry floor when loading and unloading.
The new Cell-U-Clean Mini Jet is a wash and blow-off machine in a small footprint of 5 ft. wide x 8 ft. long x 7.6 ft. tall. The part production rate is 60 seconds cycles, with a variable speed table drive.  The Cell-U-Clean Mini Jet is constructed of all stainless steel and comes with a robot loading option. The new Cell-U-Clean Mini Jet comes standard with the industry leading 3-2-1 warranty.
For more information about the Cell-U-Clean Mini Jet, visit https://www.ctgclean.com/cell-u-clean-mini-jet
Cleaning Technologies Group, LLC is a world leader in providing innovative cleaning and waste minimization technologies to precision and industrial manufacturing markets.  CTG is comprised of Ransohoff located in Cincinnati, Ohio, Blackstone~NEY Ultrasonics located in Jamestown, New York, and CTG Asia located in Suzhou, China. The Group is the premier provider of high technology, environmentally friendly parts-cleaning and waste-minimization equipment and services to the global marketplace. CTG LLC is a wholly owned subsidiary of NM Group Global, LLC.
NM Group Global LLC is a holding company for a growing group of manufacturing firms with a global reach for sourcing and marketing. Founded in 2002 with the purchase of National Machinery LLC, the original holding company, and world leader in the development and manufacture of cold forming machines, process technology, and aftermarket services. National Machinery, founded in 1874, is headquartered in Tiffin, Ohio with service centers and sales offices throughout the world.
Contact Information:
For Cleaning Technologies Group, LLC
Dave Melton
4933 Provident Drive
Cincinnati, OH 45246
800-248-9274
513-870-1783
dmeton@ctgclean.com
Visit our website at www.ctgclean.com
For Cleaning Technologies Group Asia- Suzhou, China
Enlin Zheng (Ned)
56 Songshan Road, Suzhou New District
Jiangsu Province, China PRC: 215151
(86) 0512-66161698
(362) 529-1244
elzheng@ctgclean.cn
Visit our website at www.ctgclean.cn
For NM Group Global, LLC
Bill VanCamp
161 Greenfield Street
Tiffin, OH 44883-2471
419-443-2224
wevancamp@nationalmachinery.com 
Visit our website at www.nationalmachinery.com