New Catalytic Converter Alarm for Preventing Catalytic Converter Thefts
Press Release Summary: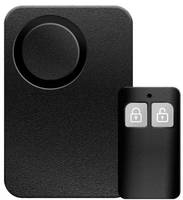 Using doppler radar technology, monitors the area around the catalytic converter
Provided with remote control for arming and disarming the alarm
Ideal for cars, trucks and SUVs
---
Original Press Release:
SolMark International Announces Availability of Their Catalytic Converter Alarm – "Cat Siren"
DIY Device for preventing Catalytic Converter Theft
Dallas, TX — Dec. 15th 2022 Today, SolMark International announced immediate availability of the Cat Siren, providing vehicle owners across the nation with a viable way to protect their catalytic converter.
"After a year of development and testing, we are excited to share the Cat Siren with the public – we set out with the goal of decreasing the amount of catalytic converter thefts and we are confident the Cat Siren will do just that." said Garrett Morrow, Product Development at SolMark International.
Cat Siren Availability
Many US retailers are planning to stock the Cat Siren. AutoZone, one of the nation's leading automotive aftermarket parts retailers, recently committed to stocking the Cat Siren in its nationwide chain of 6400 stores, enabling AutoZone to provide its customers an affordable and easy-to-use solution for preventing catalytic converter theft. Additionally, leading online automotive parts retailer Autoanything.com has come to an agreement with Solmark International to feature the newly released Cat Siren on their web store. More at https://www.autoanything.com/exhausts-mufflers/77A26741A8519306.aspx
Cat Siren Features and Benefits
The patent pending Cat Siren fits all cars, trucks, and SUVs. The USB rechargeable alarm is mounted on the underside of most vehicles with two strong magnets. For vehicles with plastic or aluminum bottoms, the Cat Siren includes special brackets that are attached with high strength double-sided adhesive strips. Arming and disarming the alarm with the provided remote control is as easy as locking and unlocking your car. Using doppler radar technology, the Cat Siren continuously monitors the area around the catalytic converter. When human motion is detected, the Cat Siren activates an ear-piercing 130db siren, preventing costly catalytic converter damage and/or theft. "It's easy to use and takes 30 seconds to install under your car. The magnets are very strong, and the device is designed to handle the undercar environment." said Stan Markuze, Product Development / Sourcing Consultant for SolMark International.
Cat Siren is available for immediate pre-order at https://catsiren.com/
SolMark International is the worldwide leader in resilient sourcing and supply chain solutions.
Cat Siren is patent pending by SolMark International in the United States and/or other countries.
The names of actual companies and products mentioned herein may be the trademarks of their respective owners.
For More Information, Press Only:
PR Contact Name – Garrett Morrow
Email – garrett@solmarkinternational.com
For More Information on Cat Siren:
https://catsiren.com/
More from Electrical Equipment & Systems