New Camouflage Design Introduced for Miller Electric Mfg. Co.'s Performance(TM) Series Auto-Darkening Welding Helmet Line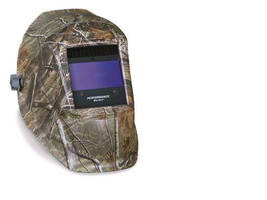 New camouflage pattern appeals to outdoor and hunting enthusiasts
Highlights/Key Facts:

o Attractive new Realtree® design for Performance Series(TM) Arc Armor(TM) welding helmets
o Three arc sensors, quick-release front cover lens holder with rubber spatter gasket
o Lightweight: 17 oz.

APPLETON, Wis., January 29, 2009 - To satisfy the demand of outdoors and hunting enthusiasts among its users, Miller Electric Mfg. Co. has introduced a camouflage design for its Performance Series line of Arc Armor(TM) welding helmets. The new Realtree® All Purpose High Definition® camouflage design - made available to Miller through an exclusive license - features a sharp, vibrant camouflage pattern that any outdoor enthusiast will appreciate.

Performance Series helmets feature three arc sensors, a quick-release front cover lens holder with a rubber spatter gasket and lens controls conveniently located at the bottom of the lens. These helmets also include Miller's Auto-On and Grind Mode features. Auto-On eliminates accidental arc flash by automatically detecting the arc even if the helmet hasn't been used for an extended amount of time. Grind mode allows the helmet to be used as a protective shield by preventing the lens from darkening while grinding.

Other important features include:

o Shades #8-13 and light state #3
o Excellent low amperage TIG (5 amps)
o $25 accessory package
o Lightweight: 17 oz.

Miller Auto-Darkening Helmets are covered by a two-year warranty.

About Miller

Miller Electric Mfg. Co., headquartered in Appleton, Wis., is a leading worldwide manufacturer of Miller brand arc welding equipment and is a wholly owned subsidiary of Illinois Tool Works Inc. (NYSE: ITW).

For more information, visit Miller's Web site at www.MillerWelds.com, call 1-800-4-A-Miller (800-426-4553), e-mail [email protected], fax 877-327-8132, or write to Miller Electric Mfg. Co., P.O. Box 100, Lithonia, GA 30058.