Vision and Imaging Sensors / Detectors
New Cal Sensors Detector Can Detect Muzzle Flash from Over 100 Meters Away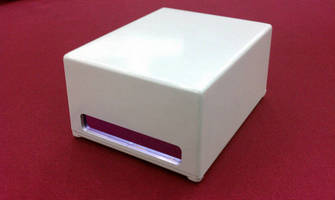 Highly-sensitive optical detector is a superior alternative to acoustic flash detection



SANTA ROSA, CA – Cal Sensors (www.calsensors.com) announces an optical detector technology capable of detecting muzzle flash from over 100 meters away, while minimizing false alarms.



Optical muzzle flash detection systems offer a faster response, less false targets and potentially a more compact solution than other gunfire detection systems. 



Operating at the speed of light an optical flash detection systems provide an almost instantaneous response to a gunfire event, providing real time detection capabilities. This also gives the targets the critical seconds needed to duck and apply counter-measures.



Unlike acoustic detectors, they do not detect other loud noises such as car backfires and can be designed to reject any optical signals that are outside the desired detection bandwidth. They are also not susceptible to the reverberation of sound off of structures in the vicinity of the gunfire. Therefore the determination of the location of the shooter is not hampered by the receipt of multiple signals from different locations for one event. A well-designed optical detector can clearly determine whether only one event transpired or if there are multiple shooters and their locations. 



With superior detector sensitivity and measurement response time, Cal Sensors offers the ideal solution for flash detection systems. 



Cal Sensors muzzle flash detection technology was first presented at booth 1548 of the SPIE-sponsored Defense, Security and Sensing exhibit held April 30 through May 2, 2013 in Baltimore, Maryland.



Cal Sensors Contact Information

For additional information or engineering assistance:



In North America, contact Cal Sensor's Sales Department, 5460 Skylane Blvd., Santa Rosa, CA 95403, USA.  Phone:  +1 (707) 303-3837.  FAX:  +1 (707) 545-5113.  E-mail:  info@calsensors.com, Web:  www.calsensors.com. 



Cal Sensors also works with distributors in Austria, Belgium, China, Denmark, Finland, France, Germany, Italy, Japan, Korea, the Netherlands, Norway, Sweden, and the United Kingdom. For contact information – please visit http://www.calsensors.com/distributors.htm.



About Cal Sensors

Cal Sensors, an ITW company, has been a leading manufacturer of standard and customized photoconductive (PbS and PbSe) infrared detectors, arrays, and broadband emitters for over 20 years.



Cal Sensors detectors provide superior sensitivity over the 1-5.5 micron wavelengths. Detector configurations include single element, multi-channel, and arrays. Detector technologies include features such as optional spectral filters, optical condensers, thermoelectric coolers, temperature sensors and integrated drive electronics.



Cal Sensors emitters support steady-state or high-pulse rates over the visible to mid-infrared spectrums.  Low cost, with high emissivity, reliability and lifetime, Cal Sensors emitters are designed to optimize performance in infrared detection systems.



Manufactured and packaged in Santa Rosa, California and distributed worldwide, Cal Sensors products are offered in standard or custom packages. Common applications include: imaging, spectroscopy, medical, automotive emissions, gas and moisture analysis, temperature measurement, flame detection and combustion control.



For additional information, please visit www.calsensors.com.







More from Cleaning Products & Equipment