New Cable Coupler Rated with 95 Amps and 1,500 Volts DC
Press Release Summary: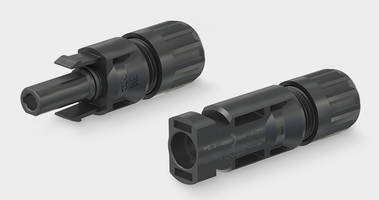 Enables a modular plug and play system for fast and easy interconnection in PV installations
Comes with full-barrel crimp style copper contacts
Designs include proprietary MULTILAM technology for maximum connection quality and energy transfer
---
Original Press Release:
Stäubli Introduces their Original UL 6703 Certified MC4 Cable Coupler for 6 AWG Cable
The coupler is the first to meet the critical need for cable components suited to today's larger, higher-output photovoltaic (PV) systems.
Stäubli Electrical Connectors, the global leader in photovoltaic (PV) connectors, has announced the introduction and availability of the original MC4 PV cable coupler for 6 AWG cable contacts with ratings high enough for widespread use in the North American renewable energy industry.
The new UL 6703 certified product is rated to 95 Amps and 1,500 volts DC. As such, it's the first and only 6 AWG connector with ratings sufficiently high to overcome a critical problem among PV utilities.
New technologies have fueled a trend toward higher PV module power output. This has led to significantly higher line currents and created a critical challenge for those who supply cabling and assemblies to the PV industry: Cables and connectors have become the limiting factors in large systems.
"New technologies such as bifacial and half-cell configurations are pushing electrical Balance of System (eBOS) line currents to significantly higher levels. This has created the need for conductors as large as 6 AWG," said Brian Mills, Head of Renewable Energy, North America for Staubli.
The challenge, he explained, is that in addition to accommodating larger 6 AWG gauge contacts, the connectors must still be compatible with preexisting cable couplers found on PV modules, peripherals and inverters. Mills said: "The new Stäubli MC4 6 AWG cable coupler bridges that gap between existing, trusted connector products and the increased demands of these new, innovative module technologies."
How the new MC4 6 AWG couplers bridge the gap for PV cabling flexibility:
They use full-barrel crimp style copper contacts to accommodate wires with lower strand counts as well as tinned or bare copper 6 AWG conductors.
They are fully verified, certified and warrantied, and can be mated to any other Stäubli MC4 and MC4-Evo 2 connectors.
The MC4 6AWG cable coupler complements the Staubli product range for eBOS applications. The combination of cable couplers, branch connectors and In-Line Fuses enables a modular plug and play system for fast and easy interconnection in PV installations.
All connector designs include proprietary MULTILAM technology, which provides multiple contact points and constant spring pressure for maximum connection quality, energy transfer, and consistently low contact resistance. As a result, they offer the highest reliability, low risk, and optimized return on investment.
Inventor of MC4, a protected Trademark of Stäubli
Stäubli, formerly named Multi-Contact – the "MC" in MC4 – invented the PV connector in 1996 and remains the holder of the MC4 trademark. The company's MC4 and MC4-Evo 2 connectors have been used in more than one billion connections worldwide, representing about 50 percent of the world's installed photovoltaic capacity (year-end-2021).
About Stäubli
Stäubli offers innovative mechatronics solutions in its four divisions: Electrical Connectors, Fluid Connectors, Robotics, and Textile. Founded in 1892, Stäubli is now an international corporation with headquarters in Pfäffikon, Switzerland, and with over 5,500 employees worldwide. Stäubli has a presence in 29 countries with production, sales, and service subsidiaries, including a network of agents in 50 countries.
Stäubli Electrical Connectors develops advanced connection solutions based on the reliable MULTILAM technology and provides connections for life in industries such as industrial automation applications, power transmission and distribution, railway, welding automation, test and measurement, medical devices and E-mobility. In the industry of Renewable Energy-Stäubli is a pioneer and global market leader in photovoltaics with its MC4 connector portfolio that has set the industry benchmark. Active in this market for more than 25 years, Stäubli Renewable Energy creates the basis for sustainable change. staubli-renewable-energy.com