New Brushless High Torque Motor with Peak Torque of 0.5 Nm at 48 VDC, 4 Amp
Press Release Summary: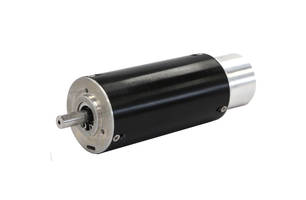 HT35 is brushless which means there is no internal friction, pollution or sparking from brushes and no inherent voltage brush drop
Available with maximum efficiency of 85%, resistance of 13.4 Ohms and inductance of 1.7 mH
Specification includes rated torque of 121 mNm at 0.9 A and rated speed at 2035 RPM
---
Original Press Release:
SMAC Releases 35mm Brushless High Torque Motor
Carlsbad, California – SMAC Moving Coil Actuators released their new high-torque brushless 3-phase DC motor (BLDC). The HT35 is the first model in a series from the manufacturer best known for its programmable, electric actuators. The HT35 has a 35 mm diameter and peak torque 0.5 Nm at 48VDC, 4 Amp.
This new proprietary design is founded on how the magnetic circuit is designed and built. A combination of SMAC's patent-pending design and printed coil technology achieves higher torque/amp. ratings than competitive solutions in the same 35 mm form factor.
HT35 Motor Specs:
Encoder Resolution (+A/-A; +B/-B): 24K CPR
Fine Index (+Z/-Z): Yes
Motor Type: Brushless 6 Pole Pair
Peak Torque: 0.500 Nm@ 48VDC, 4A
Torque Constant: 0.138 Nm/A
No load speed: 2400 RPM
Resistance (Line-Line): 13.4 Ohms
Inductance: 1.7mH
Rated Torque: 121 mNm@ 0.9 A
Rated Speed: 2035 RPM
Max. Efficiency: 85%
Back EMF Constant: 14.7 V/krpm
Speed Torque Gradient: 4.9 rpm/mNm
Mechanical Time Constant: 8.6 ms
Thermal Resistance (Winding-Housing): 1.9 K/W
Thermal Resistance (Housing-Ambient): 10.4 K/W
Stator Inertia: 0.175 gr-cm2
Total Mass: 0.27 kg
Rotor Mass: 134g
This product series grew out of the development of SMAC's direct drive robotic finger. The focus was to develop a motor with flux in the gap greater than 10k Gauss, or 2x that of SMAC's linear actuators. To simulate the human finger, a high torque is required, except at a much lower servo motor speed.
The HT35 Motor is a higher torque motor than others in its class and may be specified in applications with direct drive. Since the HT35 Motor does not have a gear to achieve this improved torque, this results in a reduction in total cost, no backlash from the gear train and a reduction of weight of the total solution. The HT35 is also brushless which means no internal friction, pollution or sparking from brushes and no inherent voltage brush drop, which means it is quieter, runs cleaner and results in a longer life than its brushed motor competitors.
SMAC can package this new HT35 motor with its current family of amplifier/controller options which includes industrial PLC I/O and common industrial protocols such as RS-232, CAN, EtherNet/IP, EtherCAT, and free programming.
For more information, please visit www.smac-mca.com
John Miewald
John-miewald@smac-mca.com
1-760-929-7575