New Brushes for Steam Cleaners Cut Long-Term Costs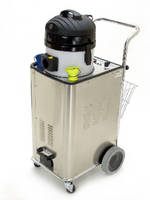 Daimer® now providing three lines of $2.50 detail brushes for the KleenJet® Ultra 5000CV that match $20 products sold elsewhere.

WOBURN, MA, U.S.A. - Daimer Industries®, Inc., a long-time vendor of cleaning equipment and components, has shipped $2.50 brushes for the KleenJet® Ultra 5000CV vacuum steam cleaners. The detail brushes are available with assorted bristle options that equal detail brushes offered by competitors for up to $20.

"Our key customer benefit has always been to provide top quality systems, covered by full warranties and focus on offering the lowest cost of ownership," said cleaning systems spokesperson Matthew Baratta of Daimer.com. "This 5000CV brush announcement is another step toward lowering costs and saving money for commercial and residential customers."

Steam Cleaners, High Quality Brushes at Low Prices

Baratta said that replacement detail brushes represent just over 95 percent of many customers' consumable costs. Commercial customers can use 100 brushes or more during a machine's operating life. That many brushes for a 5000CV would cost $250 if acquired from Daimer®. Equivalent brushes from some other vendors would run about $2000, or about 8 times more.

Daimer®'s KleenJet® 5000CV vacuum steam cleaners accept brushes with three types of bristles. Steel-bristle brushes produce the most scraping power for difficult applications such as the removal baked-on deposits found on commercial cooking equipment. Brass bristles are designed for more standard applications on metallic surfaces. The nylon bristle brushes provide the least resistance for softer materials and finishes.

The 5000CV Steam Cleaners

The 5000CV portable steam cleaner machines are engineered to include Daimer®'s other features for reducing of ownership costs. These systems have non-rusting steel boiler components covered by complete life-span warranties. The bases and machine covers are steel. A proprietary heating rod architecture allows for the replacement of a lone component in the off-chance of heating issues. The steam cleaner's parts are warrantied for 3-years by Daimer.

The floor steam cleaners include commercial vacuums, two types of filtration, as well as pressure ratings of 120 psi and temperature ratings of 329ºF.

For additional information about Daimer®'s best steam cleaner machines, grout steam cleaner systems or other steam cleaners, visit www.daimer.com/steam-cleaners/ or call Matthew Baratta at (888) 507-2220. The steam cleaner systems are available to customers in most countries in 50 Hz and 60 Hz configurations. Minimum order quantities may apply.

About Daimer Industries, Inc.®: Daimer®, www.daimer.com, is a major supplier and worldwide exporter of the cleaning industry's leading line of KleenJet® steam cleaners/vapor steam cleaners/steam cleaning equipment; Super Max(TM) commercial and industrial pressure washers, including cold water, hot water, and steam pressure washing machines; XTreme Power® floor cleaners, including carpet cleaners, hard surface cleaners, and floor buffers/scrubbers/burnishers; and the line of Micro-Blasting® Eco-Green® environmentally friendly cleaning products that employ unique technologies and a patented, proprietary chemistry.


More from Test & Measurement