New BriteCor LED Wall Pack Fixtures Offer Bright Even Light Distribution
Press Release Summary: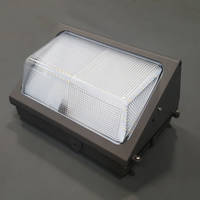 The BriteCor LED Wall Pack Fixtures are available in color temperatures of 4000 K and 5000 K. The units are suitable for use in retail centers, industrial parks, schools and universities, office buildings and medical facilities. Luminaires deliver flexibility of end users with an energy consumption of 32 W.
---
Original Press Release:
LiteSheet Solutions Introduces Brilliant BriteCor® Wall Pack
LED Luminaire Uses Revolutionary AC Direct Technology and Delivers Comparable Light Output of a 70W-175W HID or HPS at Only 32W
(PRWEB) AUGUST 12, 2018 - Exhibiting excellent energy savings and high efficiency light output, the BriteCor Wall Pack (BWP) brightens parking lots, roadways, walkways, underpasses and tunnels, building lighting and security areas. LiteSheet Solutions, a global leader in LED (light emitting diodes) lighting technology, Introduces its BWP.
"Whether driving, parking, walking, working or playing under the LiteSheet Solutions BriteCor LED Wall Pack fixtures, the difference is noticeable. The luminaire's bright even light distribution, without the glare normally associated with metal halide light, covers areas in clean, crisp white light and delivers dramatic energy savings," said Roger Whyte, CEO of LiteSheet Solutions "The versatile BWP's excellent color rendition makes it an ideal solution for retail centers, industrial parks, schools and universities, public transit and airports, office buildings and medical facilities."
The BWP is maintenance-free for the life of the fixture, no lamps or ballasts to replace eliminating the costs normally associated with the downtime with the maintenance of conventional lighting. Available in standard color temperatures of 4000K and 5000K, and replacement wattages ranging from 70W to 175W metal halide or HPS, the BWP offers the versatility and flexibility needed for a variety of end uses at an energy consumption of 32W. The fixture is dimmable.
LiteSheet is known for its AC Direct LED Technology which allows fixtures to operate directly on the AC line eliminating the driver and delivering dramatic improvements in life, operating efficiency and overall total cost of ownership. Manufactured in the U.S.A., the BWP is backed by LiteSheet's industry-leading 15-year warranty. https://www.litesheet.com/product/bwb-wall-pack-series/
"LiteSheet brings our technical excellence, our global vision and our enthusiastic commitment to the LED lighting market," added Whyte.
About LiteSheet Solutions http://www.litesheet.com 
LiteSheet Solutions, LLC is the Adaptive AC LED Technology company that develops and commercializes products for the commercial and industrial lighting market. The company combines extensive knowledge of lighting technologies and manufacturing processes to create highly efficient lighting with reduced production costs resulting in the most economical, environmentally friendly, and sustainable LED lighting available.
Media Contact: Jon Di Gesu 
LiteSheet Solutions 
(603) 770.5731 
digesu.consulting@litesheet.com
More from Controls & Controllers