New Briggs & Stratton Simplicity Mowers Provide Professional-Grade Versatility
Press Release Summary: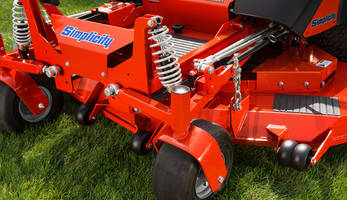 New Simplicity mowers from Briggs & Stratton include both the  Limited Edition, Courier Zero Turn and Citation XT. The products feature integrated cargo beds, adjustable rear coil-over shocks and pivoting front axle with shocks and mower speeds of up to 12 mph. 
---
Original Press Release:
New Simplicity® Mowers Offer Professional-Grade Versatility To Homeowners
New mowers offer integrated cargo beds, superior suspension and the innovative Oil Guard™ System
MILWAUKEE, Nov. 6, 2018 /PRNewswire/ -- Briggs & Stratton Corporation is adding commercial-grade features to the new line of Simplicity mowers. The new Simplicity Courier™ Zero Turn Mower (ZTR), Citation® XT and Limited Edition offer homeowners functional advantages such as an integrated cargo beds, adjustable rear coil-over shocks and pivoting front axle with shocks for a smooth ride and technology to reduce routine oil changes.
"Homeowners will experience exceptional features that professional landscapers look for before buying a ZTR for their business," said Ryan Fredrickson, product manager of residential riding mowers. "This includes the innovative Oil Guard System by Vanguard®. This patented system means homeowners can mow up to 500 hours or five years without changing the oil.1" 
Courier ZTR Line Expansion 
The expanded Simplicity Courier ZTR line is now available with either a 36-inch fabricated or 44-inch stamped cutting deck. This design is 2 inches shorter than its big brother, giving operators agile handling navigation around landscaping obstacles and through gates. The new compact Courier ZTR offers premium comfort with the added power that professional landscapers depend on to get the job done. Additional features include:
Integrated cargo bed 
Select models offer an integrated cargo bed to helps homeowners move more mulch or dirt, increasing productivity to get the job done.
Durable construction and power 
Constructed from a commercially inspired C-Channel fully welded frame, the new Courier ZTR runs on a dependable 23-gross horsepower2/724cc Briggs & Stratton® Professional Series engine and features ReadyStart® an easy automotive key-style start. The line-up also includes a Briggs & Stratton Professional Series single cylinder option as well.
Citation XT 
Built for premium ZTR mower performance, the new Citation XT runs on a 27-gross horsepower/810cc2 Briggs & Stratton Commercial Series engine and has Hydro-Gear ZT-3400 transaxles to deliver continuous torque to make short work of any large yard project. Citation XT is loaded with additional features such as:
Large cutting deck 
Available with either a 52-inch or 61-inch fabricated cutting deck, making short work of any large yard project.
Innovative dash panel 
A redesigned control panel places the mower's key-switch, choke throttle, electric PTO switch for mower engagement, hour meter, cup holder and fuel gage all within arm's reach. 
Suspension Comfort System™
A patented adjustable rear coil-over shocks and independent front suspension reduces ground vibration, providing optimal comfort while mowing up to 10 mph without sacrificing quality of cut.  
Limited Edition ZTR 
The new Simplicity Limited Edition ZTR, available with 61-inch or 72-inch cutting deck, has an impressive 11-gallon fuel capacity and is powered by a 37-gross horsepower/993cc2 Vanguard® BIG BLOCK™ EFI with Oil Guard engine. Additional benefits from the new Limited Edition ZTR include:
Exceptional operator comfort 
Engineered with an ergonomic high-back operator's seat, arm rests and safety roll bar, this new mower is designed with operator comfort in mind.
Superior suspension 
 Patented, adjustable rear coil-over shocks and pivoting front axle with shocks aim to reduce ground vibration, providing optimal comfort for any operator mowing large properties or acreages.
Unmatched Power 
Commercially engineered Hydro-Gear ZT-5400 transaxles provide unmatched power at mowing speeds up to 12 mph.

Homeowners can schedule a demonstration with a Simplicity dealer by visiting www.simplicitymfg.com and clicking on 'Dealer Locator' tab.

About Briggs & Stratton Corporation:
Briggs & Stratton Corporation (NYSE: BGG), headquartered in Milwaukee, Wisconsin, is focused on providing power to get work done and make people's lives better. Briggs & Stratton is the world's largest producer of gasoline engines for outdoor power equipment, and is a leading designer, manufacturer and marketer of power generation, pressure washers, lawn and garden, turf care and job site products through its Briggs & Stratton®, Simplicity®, Snapper®, Ferris®, Vanguard®, Allmand®, Billy Goat®, Murray®, Branco® and Victa® brands. Briggs & Stratton products are designed, manufactured, marketed and serviced in over 100 countries on six continents. For additional information, please visit www.basco.comand www.briggsandstratton.com.

1 Based on average residential use. Only available on models with Oil GuardTM and does not extend the warranty period. Required oil change interval is 500 hours. Check oil levels before each use. See operator's manual or www.vanguardengines.com for details. 
2 All power levels are stated gross horsepower at 3600 RPM per SAE J1940 as rated by Briggs & Stratton.

SOURCE Briggs & Stratton Corporation

CONTACT: Liz Dorland, Swanson Russell, 402.437.6066, lizd@swansonrussell.com

Web Site: http://www.briggsandstratton.com

 

 
More from Non-Industrial Products