New BOXER-6842M Supports up to Four 2.5" Drives
Press Release Summary: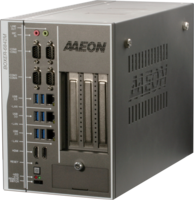 Includes an option of PCI Express configurations, with either one PCIe with one PCIe slots or two PCIe with one PCIe slot
Features the 8th and 9th Generation Intel® Core™ i9/i7/i5/i3 and Xeon® E processors
Support a secondary power supply to power dual graphics cards up to 500 W TDP
---
Original Press Release:
BOXER-6842: Powering The Next Generation of Edge AI
(Taipei, Taiwan – September 22, 2020) – AAEON, an industry leader in embedded industrial computing, announces the BOXER-6842M, the latest solution in high performance industrial computing. Powered by the 8th and 9th Generation Intel® Core™ processors and supporting graphics cards up to 250W for video capturing applications, the BOXER-6842M is designed for the most intensive applications from Edge AI server to automated optical inspection (AOI).
The BOXER-6842M features the 8th and 9th Generation Intel® Core™ i9/i7/i5/i3 and Xeon® E processors (formerly Coffee Lake/Coffee Lake Refresh), offering top end computing performance. Paired with up to 128 GB of SODIMM memory, the system is designed to deliver the best performance possible to handle processing intensive machine vision and AI applications. Additionally, the BOXER-6842M supports graphics cards up to 250W TDP without the need of a secondary power supply, making setup and deployment even easier.
The BOXER-6842M offers users greater expansion and storage options to better enable edge operation and quick analysis. The system can support up to four 2.5" drives (HDDS or SSDss) and features an M.2 2280 PCIe [x4] slot with support for NVMe, allowing faster read/write speeds and more efficient operating system performance. The system also includes an option of PCI Express configurations, with either one PCIe [x16] with one PCIe [x4] slots, or two PCIe [x8] (in PCIe [x16] form factor slot) with one PCIe [x4] slot. This provides a greater range of support for GPUs, frame grabber cards and AI accelerators such as the AI Core XP8 with Intel® Movidius® Myriad™ X. For applications needing a little bit more power, the BOXER-6842M can support a secondary power supply to power dual graphics cards up to 500W TDP.
The BOXER-6842M is built with several key features to operate in industrial environments. The system features rugged design with wide voltage input (12~24V) and an extensive I/O loadout including six USB3.2 Gen 1 ports, four COM ports, three RJ45 Gigabit LAN ports, and dual HDMI ports; all located on the front of the system to make it easy to manage connections.
AAEON offers industry leading service and support with the BOXER-6842M, from providing technical support to end-to-end solutions to help reduce deployment times and shorten time to market. AAEON also offers manufacturer and OEM/ODM services to help with creating custom configurations, or designing systems from the ground up.
"The BOXER-6842M is built to bring the latest generation of Intel processors to demanding applications including deployment as an Edge AI server," said Alex Hsueh, Senior Director of AAEON's System Platform Division. "With AAEON's industry leading service, our clients can enjoy reliable, high-end performance to power any application they need," Alex Hsueh added.
About AAEON
Established in 1992, AAEON is one of the leading designers and manufacturers of professional intelligent IoT solutions. Committed to innovative engineering, AAEON provides reliable and high quality computing platforms, including industrial motherboards and systems, industrial displays, rugged tablets, embedded controllers, network appliances and related accessories, as well as integrated solutions. AAEON also has the hardware and services for premier OEM/ODMs and system integrators worldwide. As an Associate Member of the Intel® Internet of Things Solutions Alliance, AAEON offers customized end-to-end services from initial product conceptualization and board product development to mass manufacturing and after-sales service programs. For an introduction to AAEON's expansive line of products and services, visit www.aaeon.com.
More from Material Handling & Storage