New Born to Weld Helmet Provides Consistent Shade at Any Angle
Press Release Summary: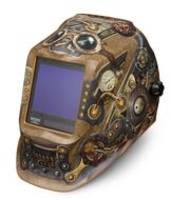 Lincoln Electric's VIKING™ 3350 Series Born to Weld™ Helmet comes with 4C® lens technology (clarity, color, carat and cut) that reduces saturation in the LCD that eliminates blur, distortion and eye strain. Unit provides 12.5 sq-in. auto-darkening viewing area that makes it suitable for use in multiple welding processes. Helmet meets 1/1/1/1 rating on the only auto-darkening lens quality standards.
---
Original Press Release:
Lincoln Electric Launches New VIKING® 3350 Series Helmet Graphic, Born To Weld™
Premium auto-darkening helmet with industry leading optics
Cleveland – Lincoln Electric® is excited to announce the launch of a stylish new helmet in its VIKING™ 3350 Series named Born To Weld™. The new helmet includes one-of-a-kind artwork that starts with military camouflage and overlays it with various welding references to create an overall effect that resonates with the gritty, dedicated and hard-working nature of the welding culture.
 
The VIKING 3350 Born To Weld welding helmet also boasts industry-leading optic design, 4C® Lens Technology, which eliminates blur, distortion and eye strain by reducing color saturation in the liquid crystal display (LCD) while also providing a consistent shade at any angle. This technology scores a perfect 1/1/1/1 rating on the only auto-darkening lens quality standard in the world (EN 379). The 12.5-square-inch auto-darkening viewing area is one of the largest for this product type industry-wide, making it ideal for a range of industries that use multiple welding processes.
 
 4C stands for the following attributes:
Clarity – Optical clarity at the highest EN379 1/1/1/1 levels
Color – Real color view
Carat – Lightweight auto-darkening filter
Cut – Even shade from any angle
The VIKING 3350 Born To Weld helmet combines this critical technology with a stylish design that makes it a practical and attractive piece of gear for any welder.
For more information, visit www.lincolnelectric.com.
Lincoln Electric is the world leader in the design, development and manufacture of arc welding products, robotic arc welding systems, plasma and oxyfuel cutting equipment and has a leading global position in the brazing and soldering alloys market. Headquartered in Cleveland, Ohio, Lincoln Electric has 63 manufacturing locations, including operations and joint ventures in 23 countries and a worldwide network of distributors and sales offices covering more than 160 countries. For more information about Lincoln Electric and its products and services, visit the company's website at www.lincolnelectric.com.
Media Contacts: 
Melissa Gutschmidt – mgutschmidt@fallscommunications.com or 216.696.0229
Greg Coleman – greg_coleman@lincolnelectric.com or 216.383.2462
More from Cleaning Products & Equipment