New BOBST K4000 CRUCIBLE Metallizer is Equipped with a 6-Drive System
Press Release Summary: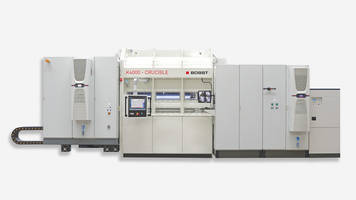 The BOBST K4000 CRUCIBLE Metallizer is used for metalizing materials such as Aluminium (Al), Silver (Ag), Copper (Cu) and Zinc sulfide (ZnS). The system features a Ø600 mm coating drum and delivers a maximum speed of 840m/min. The unit's 6 drive system includes 6 independently driven motors that provide 3 independent tension control zones. It is suitable for handling heat stable (PET) and heat sensitive substrates (CPP).
---
Original Press Release:
Low Defect Vacuum Metallizing from the BOBST K4000 CRUCIBLE
The new BOBST K4000 CRUCIBLE gives a 90%* reduction in the number of pinholes and provides a repeatable, reliable performance using proven manufacturers for all critical equipment.
Low defect metallizing
The K4000 CRUCIBLE is based on the successful and cost effective K4000 platform with the advantage of crucible technology which produces low defect metallized film.
The machine can metallize a wide variety of materials including Aluminium (Al), Silver (Ag) , Copper (Cu) and Zinc sulfide (ZnS) for a variety of applications including high barrier food packaging and yarn manufacture. The K4000 CRUCIBLE does not compromise on web speed running at a maximum of 840m/min.
BOBST innovation with a crucible source
The source which employs crucible technology provides excellent deposition quality and uniformity. The source is fully water cooled and the design ensures ease of cleaning. The consumable costs involved in running the crucible machine are also lower due to the low cost of the metal ingots in comparison to wire.
The large ?600mm coating drum allows for increased film wrap which provides better film cooling efficiency. The drum provides the largest coating window in its class in the industry allowing increased collection efficiency by 16%.
Superior winding
The machine incorporates the renowned BOBST winding mechanism from the K5 range of equipment with minimum roller contact and true tension control using load cells for virtually wrinkle-free film. The 6 drive system consists of 6 independently driven motors which give 3 independent tension control zones allowing the operator to control accurately the web flatness at critical points in the machine. The positioning of the unwind and rewind rolls allows for easy access and roll loading/un-loading on the same side of the machine.
The machine is designed for handling heat stable (PET) and heat sensitive substrates (CPP) and as such is fitted with a cooling drum and post cooling roller as standard. To increase web cooling, a further gas wedge air injection system is fitted to the machine to improve heat transfer from the web to the cooling drum.
Ease of operation
The K4000 CRUCIBLE is easier to set up for the operator and consequently easier for less experienced operators to run whilst still giving good results on defects and coating uniformity. The machine can also be fitted with the BOBST Hawkeye optical density monitoring and defect detection system.