New BNS-V Ball Screw/Spline Enables Quick Starts and Stops During High-Speed Operation
Press Release Summary: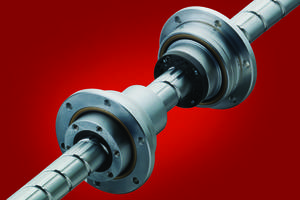 The BNS-V Ball Screw/Spline comes with ø72 outer diameter, inertia of 2.00kg•cm² and weight of 1.00 kg. The unit features a rigid shaft support and an angular-contact structure. The ball screw and ball spline nuts feature dedicated support bearing directly embedded on the circumference of the nuts.
---
Original Press Release:
THK to Unveil New Low Inertia Ball Screw/Spline BNS-V During IMTS
Schaumburg, IL - At this year's IMTS in Chicago, September 10 – 15, visitors can see in person THK's latest Ball Screw/Spline BNS-V. Featuring an exceptionally compact and lightweight structure, the low inertia BNS-V enables quick starts and stops during high-speed operation.

The BNS-V is a stroke/rotary unit with ball screw grooves and a ball spline groove that cross one another on a single shaft. The nuts of the ball screw and the ball spline have dedicated support bearings directly embedded on the circumference of the nuts. Some advantages of the new Ball Screw/Spline BNS-V include a highly rigid shaft support, an angular-contact structure for highly accurate positioning and smooth motion with low noise.

The BNS-V is a downsized version of THK's popular Ball Screw/Spline BNS-A. The BNS-V features a compact ø72 outer diameter, a low weight of 1.00kg and a low inertia of 2.00kg•cm², contrasted with the BNS-A ø86 outer diameter, weight of 1.67kg and inertia of 4.32kg•cm².

THK manufactures the widest range of linear motion products, including LM guides, ball screws, mechanical actuators and ball splines and more. All THK products have been designed and manufactured to meet the strictest requirements. THK's experienced Global Engineering Team can provide customized linear motion solutions from their standard linear motion products as well as from mechatronics products for the most demanding applications.

To learn more, visit IMTS booth #134514, visit IMTS booth #134514, log on to www.thk.com or contact THK America, Inc., 200 E. Commerce Dr., Schaumburg, IL 60173, Phone: (847) 310-1111, Fax: (847) 310-1182, Email: marketing@thk.com
ForTHK America, Inc.
200 E. Commerce Drive
Schaumburg, IL 60173
(800) 763-5459
Fax: (847) 310-1182
Email: marketing@thk.com
FromGoda Advertising
1603 Colonial Parkway
Inverness, IL 60067
Phone: (847) 776-9900 ext. 124
Fax: (847) 776-9901
Contact: Kimberly Maley 
Email: kmaley@goda.com
Related