New Bluetooth Loudspeaker Microphone with Built-in Noise Reduction Function
Press Release Summary: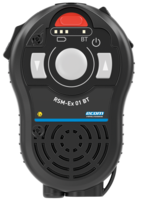 Produces clear, high-volume audio up to 103 dB
Magnetic charging cable and optional charging cradle make charging simple
2200 mAh Li-ion battery pack secures a long operating time up to 78 hrs
---
Original Press Release:
RSM-Ex 01 BT Z0 – ECOM Instruments Offers Intrinsically Safe Bluetooth Remote Speaker Microphone for Zone 0/21
Clear communications at any times is particularly important for lone workers in hazardous areas. To secure their safety and optimal working conditions ECOM Instruments, a Pepperl+Fuchs brand, offers a wireless Bluetooth remote speaker microphone with an operating time up to 78 hours beside the wired RSM-Ex 01.
Assamstadt, December 8th 2020 - The RSM-Ex 01 BT Z0 comes with an IP65/67 rating and a built-in noise reduction function. It produces clear, high-volume audio up to 103 dB. The remote speaker microphone is extremely robust and yet very flat and ergonomic to wear on the body. It is intuitive and easy to use, even when wearing gloves. The built-in BT Interface allows a connection to industrial BT devices like Radios, Tablets and Smartphones, and of course to current and future ECOM products.
The speaker microphone provides additional buttons like Chanel Up/Down that allows an easy channel switching on the RSM and it is lone worker ready by providing a red SOS button. This way workers can call for help quickly and easily connecting to the company's headquarters or directly to an emergency operations centre nearby. The included 2200 mAh Li-ion battery pack secures a long operating time up to 78 hours. Therefore, the RSM-Ex 01 BT Z0 can stay in operation for several shifts before changing the device or battery back. The magnetic charging cable and optional charging cradle make charging easy even in dusty environments and extends the equipment's lifecycle.
The device also offers several possibilities for a customized button individualization, when combined with the Ex-Handy 10 Series by ECOM for example, the RSM-Ex 01 BT Z0 allows individual button settings for sending custom commands to servers and other IoT switches. This makes everyday work easier for employees by enabling them to perform frequently performed tasks, such as opening a gate, with a single keystroke.
You want to learn more about the RSM-Ex 01 BT Z0 speaker microphone or other devices and digital solutions especially designed for hazardous areas. Visit the ECOM Instruments website www.ecom-ex.com and feel free to contact us.
About ECOM
The Pepperl+Fuchs brand ECOM is internationally one of the first addresses for mobile computing and communication devices for use in potentially hazardous areas. As an industry pioneer, ECOM has decisively developed explosion protection for mobile devices since 1986 and has proven its technological expertise with a multitude of innovations. ECOM is the preferred brand for explosion-protected mobile phones, 4G smartphones, tablets, and peripherals that meet the highest requirements in industrial use. As part of the Pepperl+Fuchs Group, a leader in industrial sensor technology and explosion protection, customers benefit from a complete portfolio of technologies designed for conventional and Industry 4.0 applications.
In its five core disciplines Mobile Computing, Communication, Digital Products and Services, Measurement and Calibration Technology and Portable Lighting, ECOM offers reliable intrinsically-safe and explosion-proof products, wireless peripheral devices, and smart software applications – all backed up with worldwide assistance from service centers in Germany, USA, UAE and Singapore and from ECOM subsidiary offices to reduce your risk.
For more information, please visit ECOM's website: www.ecom-ex.com and www.pepperl-fuchs.com
Press Contact:
ECOM Instruments GmbH
Christian Uhl
Head of Communication | Global Marketing
Industriestraße 2
D-97959 Assamstadt
Phone: +49 (0) 6294 4224 990
Email: christian.uhl@ecom-ex.com
Web: www.ecom-ex.com
Schwartz Public Relations
Eva Stepkes
Sendlinger Straße 42 A
D-80331 München
Phone: +49 (0)89-211 871 -40
Email: ecom-ex@schwartzpr.de
Web: http://www.schwartzpr.de/en
Related