New BLF03VK Series Noise Filters Designed for 5 GHz Band
Press Release Summary: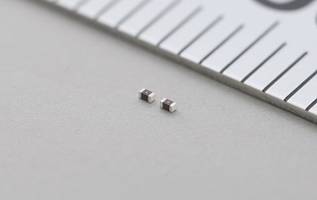 Suppress noise in 5 GHz band that interferes with Wi-Fi signals
BLF03VK221SNG is available with specified impedance of 220 ohms at 5 GHz
BLV03VK600SNL is specified as 60 ohms at 5 GHz, 1.2 A rated current
---
Original Press Release:
Murata's Filters are First to Guarantee Reduced Noise Specification in 5 Ghz Band for Wi-Fi Applications
Hoofddorp, Netherlands: Murata has announced the release of the BLF03VK series of ultra-compact noise filters specifically designed for the 5 GHz band, one of the frequency ranges used in Wi-Fi (wireless LAN) communications. The filters are the first in the world to have a specified, guaranteed impedance value at 5 GHz.
The 5 GHz band for Wi-Fi is known as a high-speed transportation band. However, when a device self-generates noise in this frequency band it interferes with the signal received, resulting in a lower data processing performance and slower transmission. Murata's new BLF03VK series of noise filters suppress noise in the 5 GHz band that interferes with Wi-Fi signals, thereby contributing to improved data processing capability and faster data transmission.
Aimed at companies designing wireless communication equipment with a Wi-Fi function and those producing 5G equipment such as smartphones, tablet PCs, base stations, Wi-Fi modules, etc., the lineup currently comprises two models: the BLF03VK221SNG with a specified impedance of 220 ohms at 5 GHz, 0.8 A rated current, and the BLV03VK600SNL specified as 60 ohms at 5 GHz, 1.2 A rated current. The parts' impedance frequency characteristics are controlled to maximize noise suppression in the 5 GHz band, they feature a low DC resistance, and they save on space, with a compact size of just 0.6 x 0.3 mm.
Murata has previously offered several series of noise filters for targeted frequency bands that guarantee impedance in the relevant bands. These are the BLF02RD_GN series of noise filters supporting the 2.4 GHz band, and the BLF03JD_GN series and BLF02GD_GN series supporting the 700 MHz band.
The BLF03VK series of noise filters supporting the 5 GHz band also improve communication sensitivity in Wi-Fi environments for smartphones and other devices. Murata has begun mass production of the series, and will continue to develop products that respond to the demands of the market in a timely manner.
About Murata
Murata is a leading manufacturer of electronic components, modules, and devices. The complete range includes ceramic capacitors, resistors/thermistors, inductors/chokes, timing devices, buzzers, sensors and EMI suppression filters. Whilst the company is known as a global ceramic capacitor manufacturer, it is also a world leader in Bluetooth® & WiFi™ Modules, board-mount DC-DC converters and is a key manufacturer of standard and custom AC-DC power supplies.
Established in 1944, Murata is headquartered in Japan and has European offices in Finland, France, Germany, Hungary, Italy, the Netherlands, Spain, Switzerland and the UK.
For further information and reader enquiries:
Dunya Kamil
Murata Electronics Europe B.V., Wegalaan 2, 2132 JC, Hoofddorp, The Netherlands
Tel:+31 (0) 23 56 98 456
E-mail: dkamil@murata.com
Fax:+31 (0) 23 56 98 361
Web: www.murata.com
Agency Contact:
Rachel Sandeman
Publitek Limited, 18 Brock Street, Bath, BA1 2LW, United Kingdom
Tel:+44 (0) 2038 136425
E-mail:rachel.sandeman@publitek.com
Web: www.publitek.com