Electrical Sensors / Detectors / Transducers
New BES R01 Inductive Flatpack Sensors Feature Polyphenylene Sulfide Sensing Surface
Press Release Summary: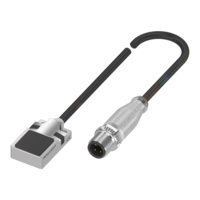 Balluff's BES R01 Inductive Flatpack Sensors are designed for use in hostile conditions of welding environments. Units feature die-cast zinc housing and high-temp silicone cable jacket that protects conductors from weld-spatter burn through. The sensors come with weld-field immune option, which provides stable operation near electrical welding currents. Fortron PPS sensing face enables plant operator to minimize downtime occurred during premature sensor failure.
---
Original Press Release:
Balluff Introduces Inductive Sensor Series for Welding Applications
Fortron PPS Sensing Face Resists Thermal Breakdown, Minimizes Downtime
Florence, KY: Weld spatter burn-through is a constant challenge with inductive sensors in automated welding applications. Balluff is pleased to announce an all-new series of inductive flatpack sensors with the active sensing surface made from Fortron, a high-performance polyphenylene sulfide (PPS) material. These new BES R01 flatpack sensors help to combat the hostile conditions found in welding environments.
"The development of these new welding-oriented inductive sensors is completely market-driven," says Shawn Day, product marketing manager for Balluff. "We at Balluff are constantly listening to the expectations of our customers in the automated welding industry, and they told us that tougher sensors are needed."
Typical plastic sensing face materials suffer from erosion and degradation due to repeated impingement of hot weld spatter. The closer the sensor is placed to the welding electrode, the shorter the sensor's life expectancy. The Fortron PPS sensing face on Balluff's new flatpack sensors effectively resists thermal breakdown in hostile welding environments.
The new housings having the same form factor as the standard flatpack sensors making installation simple. Equipped with additional features designed specifically for welding applications, Balluff's new Fortron PPS flatpack sensors can help plant operators reduce downtime occurring due to premature sensor failure.
Fortron PPS sensor face resists weld spatter burn through
Die-cast zinc housing combats adhesion of weld spatter
High-temp silicone cable jacket protects conductors from weld-spatter burn through
LED in the connector eliminates typical LED burn through on sensor housing
Weld-field immune (WFI) option for stable operation near electrical welding currents
About Balluff Inc.: 
Balluff Inc. is the U.S. subsidiary of Balluff GmbH, Neuhausen, Germany. Balluff is a leading supplier of networked IO-Link control system architectures that unlock the potential of the IIoT and Industry 4.0. Balluff offers a wide range of intelligent IO-Link and industrial Ethernet sensors in a variety of technologies including inductive, photoelectric, capacitive, and magnetic as well as magnetostrictive linear position sensors, magnetic tape linear encoders, industrial RFID systems, and industrial vision systems. Balluff provides cost-saving, process-enhancing solutions to machine builders and manufacturers to control, regulate, automate, assemble, position, and monitor manufacturing, assembly, and packaging sequences. Industries served include: automotive, packaging, food processing, beverages, tire, primary metals, conventional and alternative energy, semiconductor, plastics, and fluid power.
More from Packaging Products & Equipment