New Bernard Best of the Best Platform Allows Users to Build Their Ultimate MIG Welding Gun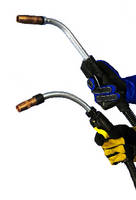 BEECHER, Ill., – Bernard has announced the availability of its most flexible and rugged semi-automatic air-cooled MIG gun offering to date: Best of the Best (BTB) Platform MIG Guns. Users can build their ultimate MIG gun by choosing from an expanded list of the best features from the legacy Bernard Q-Gun™, S-Gun™ and T-Gun™ MIG Gun lines. The company has consolidated the top features from each gun line into a single MIG gun offering and a single online configurator.                        



The BTB Platform MIG Guns were designed for maximum configuration flexibility and industrial-grade performance. The consolidation of the three legacy industrial gun lines from Bernard into the single BTB Platform MIG Gun offering provides users with options for MIG guns ranging from 200 to 600 amps, with cable length options between 8 and 25 feet. Configured guns are available for wire sizes ranging from 0.023 inches (0.6 mm) to 1/8 inches (3.2 mm).          



By visiting BernardWelds.com/ConfigureMyGun, users can reach the Best of the Best Platform Gun Configurator and choose from three high performance consumables series: Centerfire™, TOUGH LOCK™ or Quik Tip™ Consumables. They can then pair their consumable choice with any fixed or rotatable neck on one of the six front handle sizes and styles offered, including straight or curved models (some limitations apply). The new Bernard Universal Conventional Liners, which are compatible with all BTB Platform MIG Gun configurations, are an option for users to simplify inventory by standardizing on one liner for any style of gun. QUICK LOAD™ Liners and the revolutionary QUICK LOAD Liner AutoLength™ System are also an option when configuring a BTB Platform MIG Gun with a choice of a straight or curved front handle.



Additional features users can select include:



•    A choice of new Universal Power Pins to adapt to most major brands of wire feeders.

•    A choice of Industrial Grade Cable or Steel Monocoil Cables.

•    A choice of neck angles and lengths in both fixed and rotatable styles.

•    A choice of specialty trigger options including locking, dual pull, dual schedule switch and locking

     dual schedule switch.



Accessories such as the Q-Neck coupler, heat shield, neck guard, specialty nozzles, flex necks, etc. can still be ordered on the side with the configured Best of the Best Platform MIG Guns.                          



Bernard backs all BTB Platform MIG Guns with its new one-year manufacturer's warranty in addition to a lifetime warranty on all rear strain reliefs, straight front handles and straight front handle switches.

More from Sensors, Monitors & Transducers