New Bench Scale Provides Accurate and Consistent Weighing
Press Release Summary: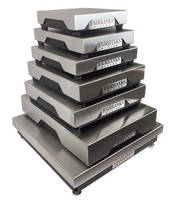 Features heavy-duty carbon steel base that has the heft and stability with sustained accuracy
Offers durable platform design, compatible with any analog instrument and IP65/IP66 rated load cells
Designed for industrial, non-washdown weighing applications
---
Original Press Release:
Fairbanks Scales Announces New 5100 Series Silverback™ Bench Scales
Providing accurate and consistent weighing while taking the abuse of a modern production environment!
Overland Park, KS -- Fairbanks Scales Inc., the oldest scale company in the U.S. and the world's leader in weighing equipment, announces its new 5100 Series SilverBack™ Bench Scales, a rugged platform designed for industrial, non-washdown weighing applications.
Fairbanks' SilverBack is an incredibly rugged bench scale that features a super heavy-duty carbon steel base that has the heft and stability to handle the daily rigors of industrial environments with sustained accuracy. It is a fact that the bench scales sold to a factory or distribution center can be dropped, knocked around, struck with objects, or overloaded. Scales designed for the cautious user will be destroyed by the incautious user. The SilverBack is built to stand up to this treatment and continue to provide accurate weights. They also feature durable brushed stainless-steel shroud that simply lifts off to access the scale base.
The SilverBack bench scales are a reliable and cost-effective solution for non-food grade applications in which the scale doesn't require high water ingress ratings and full stainless construction for washdown. Since SilverBack platforms can be paired with any analog instrument, including those produced by other manufacturers, the possibilities to create the ideal weighing solution are endless.
The SilverBack platforms feature a unique toolless installation pillar mount design that enables pillar attachment without cracking open a toolbox. The pillars are sold individually and can be paired with the analog instrument best suited for any weighing application.
The SilverBack is the industry's most durable platform design, compatible with any analog instrument, made in USA with fast lead times, IP65/IP66 rated load cells and competitively priced. Configure the SilverBack with your analog instrument of choice to create a bench scale perfectly suited for your weighing application and budget.
About Fairbanks Scales
Founded in 1830, Fairbanks Scales has become the leader in the industrial weighing market by creating and manufacturing an unrivaled range of weighing equipment solutions. From bench, parcel, counting, floor, and truck scales to animal, railroad track, and a full range of specialty scales, Fairbanks Scales has a reputation for being the most agile and attentive industrial weighing partner in the business. Headquartered in Overland Park, KS, the company is also uniquely positioned to provide services for non-weighing products based on its nationwide contingent of technicians who can provide preventive maintenance and consistent, reliable service. To request more information or to find the Fairbanks representative or authorized distributor nearest you, please call (800) 451-4107, or visit www.fairbanks.com.
If it has to be right...It has to be Fairbanks!
Contact:
Ingrid Adel
Fairbanks Scales
+1-816-448-4288
iadel@fairbanks.com
More from Software