New Belgium Brewing Taps into the On-Demand Steam and Sustainability Advantages of Three Miura LX-200 Boilers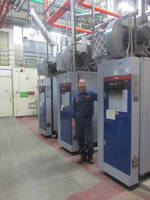 Multiple-Installation Miura Boilers Handle Major Craft Brewer's Varying Load Profile for More Than Ten Years While Reducing Emissions and Limiting Fuel and Water Consumption for a Reduced Carbon Footprint



ATLANTA — Employee-owned and famous for its Fat Tire amber ale and other popular year-round and seasonal beers, New Belgium Brewing of Fort Collins CO is the third-largest craft brewery in the U.S., and the eighth-largest U.S. brewery overall. Embracing a much-admired corporate culture that emphasizes philanthropy and environmental stewardship (new employees are presented with a bicycle after one year of service), New Belgium's trendsetting innovations have also included its 2002 installation of three LX-200 natural-gas-fired boilers made by Miura, the world leader in ultra-low NOx modular on-demand steam solutions. The company's choice of Miura boilers was motivated by multiple factors, as New Belgium Systems Specialist Warren Bennet explains.



"We were among the first in Colorado to get Miura boilers," says Bennet, who adds that New Belgium's Miuras work in combination with a traditional water-tube boiler that the brewery has had for nearly 20 years. "We use steam for brewing, sterilization, and heating the building. Our steam load can spike up and down all day long. The Miuras and our older boiler work very well for us in tandem, with the older boiler in the background for low load times, and the Miuras doing high fire/low fire during high-demand periods. The Miura boilers make steam very fast. They don't use a large volume of water, so when you do ask them to fire-up and make steam they produce it quickly, which is great for our needs."



Miura boilers feature a unique "once-through" fin-tube design that heats a smaller volume of water more efficiently than other boilers. This enables Miura boilers to generate full steam from a cold start in five minutes or less. This on-demand steam generation makes Miura boilers particularly well suited to a multiple installation (MI) environment in which boilers can be automatically turned on or off as needed for optimal management of changing load conditions, as opposed to idling in stand-by while consuming energy.



"Our Miura boilers 'talk' to each other," Bennet explains. "There's a microprocessor-control system that looks at all three of them and 'stages them in' as needed, depending on our steam-pressure set-points. You might have two in high-fire and one in low-fire, or all three may be in low-fire. It all depends. We have a control system that we can dial into to see what our steam pressure is. The Miuras just turn on and off automatically and we don't have to think about them when we go home. Everything works."



The built-in precision microprocessor-control technology in Miura boilers also requires less fuel, saving an average of 20 percent annually on energy costs over conventional boiler designs.



"Our Miura LX-200 boilers are very efficient," Bennet informs. "I know when we put our combustion analyzer on them they are burning with 89 to 90 percent efficiency. The combination of the four boilers also gives us plenty of redundancy. Our three LX-200s also include Economizers on the back so we can capture a little more heat out of them. We could run just our three Miuras and still have plenty of steam output for everything we need. The Miura boilers also have a small footprint and are easy to diagnose if there's any problems."



Every Miura boiler includes a BL Micro Controller, which features precision microprocessor-control technology that keeps track of multiple individual monitoring points. An advanced diagnostic system, it can identify any potential challenge to smooth operation and recommend a solution on an easy-to-read display. A "sliding-window feature" records events four seconds before they occur for fast and effective trouble-shooting. This system can also be accessed via the Internet using the Miura Online Maintenance ("MOM") feature for remote monitoring and diagnostics. Miura owners can also obtain regular performance data for extremely accurate tracking of all boiler performance parameters.



Sustainability

Environmental stewardship has been a New Belgium core value since the company's inception, with carbon footprint reduction a key component of corporate sustainability best practices. The low emissions produced by Miura boilers fit perfectly into this strategy. Compared to conventional steam boilers, Miura boilers output reduced levels of nitrogen oxides (NOx), a major contributor to air pollution, as well as carbon dioxide (CO2), the most prevalent of greenhouse gases. Miura boilers achieve low-NOx performance by reducing the temperature of the boiler's flame, which in turn reduces the amount of excited nitrogen atoms available to bond with oxygen to form nitrogen oxides. As a result of this, NOx emissions are reduced to around one-quarter of what traditional fire-tube boilers emit. This enables Miura boilers to comply with even the most stringent air-quality regulations. With regard to reduced CO2 emissions, Miura's technology leverages superior operating efficiency to contribute significant carbon abatement with a payback.



"Low emissions are a priority at the New Belgium Brewing Company," states Bennet. "And even though Colorado's emissions standards aren't as stringent as California's that will probably change in the future. Having Miura boilers keeps us ahead of the curve. You definitely learn about your equipment as it gets run and used over the course of 12 years. Miura has learned lessons and made improvements to its boilers during that time, and we have learned right along with them. We have an empty space next to our three LX-200's where another Miura will go when our old water-tube is retired. There's also a spot on the steam header where a new Miura will plumb into. We like the fact that Miura doesn't use foreign-made gas valves that have to be ordered from Europe. Miura parts are readily available. Miura boilers make up steam nicely and they're competitively priced. They work really well."



About Miura Boiler

Miura Boiler was founded in 1927 and has grown to become one of the largest industrial steam boiler manufacturers in the world. In 2009, Miura opened a new U.S. manufacturing facility in Polk County, Georgia. For more information on Miura Boiler, call in the USA 1-888-309-5574. In Canada call 1-800-666-2182. Visit Miura online at: www.miuraboiler.com.



About New Belgium Brewing

New Belgium Brewing, makers of Fat Tire Amber Ale and a host of Belgian-inspired beers, is recognized as one of Outside Magazine's Best Places to Work and one of the Wall Street Journal's Best Small Businesses. The 100% employee-owned brewery is a Platinum-level Bicycle Friendly Business as designated by the League of American Bicyclists, and one of World Blu's most democratic U.S. businesses, and a Certified B Corp. In addition to Fat Tire, New Belgium brews nine year-round beers: Ranger IPA, Rampant Imperial IPA, Snapshot Wheat, Shift Pale Lager, Sunshine Wheat, 1554 Black Ale, Blue Paddle Pilsener, Abbey Belgian Ale, and Trippel. Learn more at: www.newbelgium.com.



Related