New Automation Bots Software Tools Helps End-Users to Reduce Time in Completing Complex Workflows
Press Release Summary: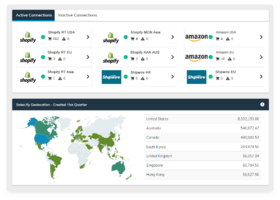 Available tools include Batch eCommerce Order Bot, Sales Order Email Bot, Sales Order Email Bot, Branch Replenishment Bot and Intercompany Bots
Batch eCommerce Order Bot offers processes for syncing eCommerce orders with accounting software
Sales Order Email Bot creates fast, efficient sales order-related communication for superior customer service
---
Original Press Release:
Cin7 Automation Bots Give Valuable Time Back to Product Businesses
Automation Bots reduce up to 80% of the time it takes for end-users to complete specific complex, routine and common workflows in Cin7, increasing efficiency, reducing errors and minimizing overall costs
AUCKLAND, New Zealand and DENVER, March 9, 2020 /PRNewswire/ -- Cin7, a pioneer in cloud-based inventory management software (IMS) and point-of-sale (POS) solutions, has introduced a new set of automation tools that give product-focused businesses more time to focus on building their brand and serving their customers. Automation Bots allow staff to focus more on the non-routine tasks and responsibilities that are best done by humans.
"Automation Bots take care of the boring work that nobody wants to do," said Danny Ing, Cin7's Founder and Chief Innovation Officer. "That means our customers' staff have more time to do great work, be creative, solve problems and make their business thrive."
Today, Cin7 has powered up six Automation Bots that save businesses a lot of time every day:
Batch eCommerce Order Bot—Simplifies the processes for syncing eCommerce orders with your accounting software.
Sales Order Email Bot—Creates fast, efficient sales order-related communication for superior customer service.
Branch Replenishment Bot—Eliminates manual data analysis when optimizing inventory across multiple stock locations.
Intercompany Bots—Three Automation Bots that eliminate tasks related to Transactions, Stock Visibility, and Price Mapping between linked Cin7 accounts.
Coming soon, Cin7 will roll out Automation Bots for dropship purchase orders, production jobs, sales order updates and other workflows.
"This is just the start," said Ing. "We want our software to work harder and smarter, giving more time back to our customers."
To learn more about what Cin7 can do for your product-focused business, contact sales@cin7.com
About Cin7
Cin7 is connected inventory management, simplified. With built-in POS and warehouse management, Cin7 keeps inventory in line with orders across every sales channel and stock location, the smartest way for growing brands to sell more to more customers in more places. Use Cin7 to gain real-time insight, contain costs and maximize margins and cash flow for your B2B, B2C, online and brick-and-mortar business. Cin7's extensive integration includes 3PL warehouses, retailers (with built-in EDI), online marketplaces, eCommerce platforms, accounting solutions and other business-critical software, making Cin7 adaptable to your specific requirements. For more information, please visit cin7.com.
Cin7
CONTACT: David Leach, p: +64 21 586 715
Web Site: http://www.cin7.com
Related