New Automatic Dispensing System Provides Easy Loading from Top, Front or Sides
Press Release Summary: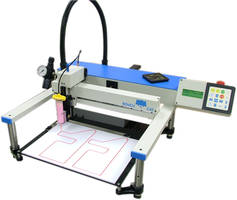 Features 14 in. x 10 in. work area with overhead gantry
Offers built-in valve controller that provides digital real time control of syringes and valves
Designed for dispensing of materials including adhesives, pastes, epoxies, and sealants
---
Original Press Release:
The Bench Cat Automatic Dispensing System by Dispense Works Inc.
Meet the Bench Cat — manufactured in the U.S. — is designed for automatically dispensing a variety of materials including adhesives, pastes, epoxies, sealants, etc. — as well as spray, fill, virtually any fluid from most valves and pumps. Even your existing handheld systems are easily added with the included universal valve / syringe mount. No PC is required for operation.
The Bench Cat's logical design features a generous 14" x 10" work area with an overhead gantry which means your product remains stationary while the valve moves from overhead dispensing the media. This also results in less complicated fixturing and provides easy loading from top, front or sides. The removable pallet base streamlines tooling change over if required.
A built-in valve controller provides digital real time control of syringes & valves accurate to micro seconds. No external control box is required. Onboard inputs & outputs are included for handshaking with other equipment or integrating components such as vacuum, clamps, shuttles, etc.
Easy to operate — The Bench Cat's pre-programmed control system redefines the terms simple, easy and operator friendly. You will be dispensing in 2-D or 3-D within minutes using just a few simple 2 letter commands. Not simple enough? Included Jog & Teach function lets you define the dispensing path by jogging the dispenser with no programming or code entry involved. An optional Windows software package allows you to draw the dispensing path in any popular CAD software and it coverts it to motion. Now that's simple. That's the Bench Cat.
This robot is at home in a production environment or the R&D lab; the applications are limited only by your imagination. Our limitless customizing capabilities include libraries of standard proven components from stock for total turnkey production.
Bench Cat is a division of Dispense Works Inc., a full service manufacturer. We are a leader in robotic dispensing technology and custom solutions with advanced machines and controls that are in use in virtually every manufacturing industry worldwide.
Bench Cat - www.benchcat.com 815-363-3524 info@benchcat.com
Related