New AU100-ER Two-Axis Gimbal Mount Features 360 Degree Continuous Rotation of Each Axis
Press Release Summary: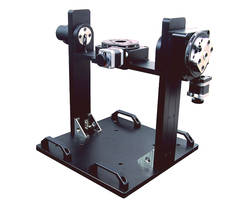 Handles load up to 20 kg with a clearance of 300 mm x 300 mm about the roll axis of the stage
Pitch and roll axes are driven by bi-directional stepper motors with knobs
Offers travel speed of 12° per each axis, repeatability and positional accuracy of 18 arc seconds
---
Original Press Release:
New Compact, High Resolution Two-axis Gimbal Mount Released by OES!
Van Nuys, CA - OES (Optimal Engineering Systems, Inc.) has released the new, compact AU100-ER two-axis Gimbal Mount that features a full 360 degrees continuous rotation of each axis to its product line. This compact two-axis gimbal mount handles loads to 10kg (22 lbs) and has a clearance of 300 mm x 300 mm, (11.8 in. x 11.8 in.) about the roll axis of the stage. The pitch axis stage is mounted on a large 360 mm (14.173 in.) by 360 mm (14.173 in.) 13 mm (0.512 in.) plate for increased stability. The compact AU100-ER Two-axis Gimbal Mount is the ideal platform for: Lasers and instrumentation for scanning, tracking, positioning, pointing cameras, optics, and lab and research applications.
The roll axis table measures 100 mm (3.937 in.) in diameter with a 30 mm (1.181 in.) through hole, and has a precision pattern of threaded holes for easy addition of fixtures or tooling. Both the pitch and roll axes are driven by bi-directional stepper motors with knobs, for manual adjustments, that can be replaced with optical encoders for position verification. As an option servo motors for higher speed and more accurate closed loop positioning can be ordered. Each axis features: Low backlash worm gear drives and precision "V" groove and cross roller bearings for very high resolution of 3.6 arc seconds, and repeatability and positional accuracy to 18 arc seconds. Travel speed of each axis is 12 degrees per second with stepper motors and 90 degrees per second with servo motors Connections are made using readily accessible 9 pin DB-9 connectors and electrical wiring is enclosed for protection.
The AU100-ER Motorized Two-axis Gimbal Mount can be ordered as a complete plug-and-play system with a multi-axis controller, joystick, trackball or keypad.
About OES – Optimal Engineering Systems, Inc. (OES) is a manufacturer of motion control products including: Stepper motor controllers and drivers, solenoid electronics, and positioning stages and slides. Applications include: Animation, automated assembly systems, automation, CNC machines, flight simulation, inspection systems, linear and rotary stages, machine tools, medical devices, motion control camera boom systems, optical comparators, CMMs, pan-tilt gimbals, PCB assembly & inspection, pick-and-place, positioning stages, robotics, scanners, security cameras, telescope drive mechanisms, time-lapse photography and winders
Some of the industries OES serves are: Aerospace, Astronomy, Chemical, Communications, Educational Institutes, University, Colleges, Government Agencies, National Labs, Manufacturing, Medical, Metrology, Military, Motion Control, Museum, News Agencies, Semiconductor and Test Equipment. Optimal Engineering Systems, Inc's. competitive advantage is its state-of-the-art in-house manufacturing facility in North America enabling OES to supply clients with custom designed orders or high volume just-in-time deliveries globally.
For additional information contact our sales team at Optimal Engineering Systems, Inc. (OES), 6901 Woodley Ave, Van Nuys, CA 91406; Tel 888-777-1826, +1 818-222-9200, E-Mail sales@oesincorp.com or visit the website at http://www.oesincorp.com
More from Communication Systems & Equipment