New Assorted Wera Hand Tools from AutomationDirect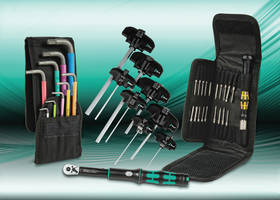 Wera, a leading manufacturer of wrenches, ratchets, socket sets and screwdriving tools, is known for their attention to quality, ease of use, and a safety-friendly design.
AutomationDirect has added 14 new assorted Wera tools including miniature and insulated screwdriver sets, a driver-bit set, metric and Imperial T-handle and L-key hexdriver sets, an impact driver set and adjustable torque screwdrivers and torque wrenches.
The Wera 17-piece 5/16-inch hex socket drive impact driver set ($221.00) includes impact driver, Phillips bits, slotted bit, hex bits, Torx bit, square socket adapters and durable cloth pouch.
A new 20-piece miniature driver bit set ($186.00) has a Micro ESD (electrostatic discharge) safe bit-holding miniature screwdriver with slotted, Phillips, hex, Torx and 5 lobe bits.
New Wera multicolor 9-piece L-key hexdriver sets in imperial and metric sizes start at $41.00. Also new are 8-piece Wera T-handle hexdriver sets in both imperial and metric sizes starting at $43.00.
The new torque screwdriver kit ($319.00) includes three torque drivers (ranging from 2.5 to 55 in-lb) and 24 driver bits.
Starting at $144.00, completely new Wera adjustable torque wrenches with reversible ratchets are available in four torque ranges from 1.5 to 150 lb-ft. and three drive sizes (1/4, 3/8, 1/2 inch).
Learn more by visiting: www.automationdirect.com/tools
About AutomationDirect:
In business since 1994, AutomationDirect is a distributor offering thousands of industrial automation products for electrical control systems, including PLCs, operator interfaces, AC drives, motors, stepper systems, sensors, motor controls, enclosures and more. Their prices are typically well below the list price of more traditional automation companies because of their business model and focus on efficiency and the majority of their products are stocked for same-day shipping. Plus, get free two-day delivery on orders over $49; some limitations apply. For more information, contact them at 800-633-0405 or visit www.automationdirect.com.
Contact This Company Download Spec Sheet
More from Controls & Controllers