New Assistance for Injection Molding Success Service Eliminates Incorrect Design Principles
Press Release Summary: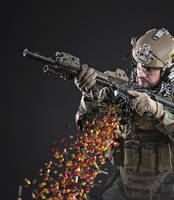 The Conventus Polymers' Assistance for Injection Molding Success Service (AIMS) helps firearm product developers to maximize success for converting metal firearm components to injection molded engineering polymers. The service focuses on eliminating improper material selection. The Conventus provides material flow analysis and computer-aided engineering tools for firearm designers to help them to see where their part may fail.
---
Original Press Release:
Conventus Polymers Introduces Aims - A New Product Development Service for Firearms Product Developers
PARSIPPANY, NJ USA - (January 3, 2019) – Conventus Polymers, a leading supplier of specialty polymers for firearms applications, will be highlighting several products and introducing a new service for firearms product developers called AIMS (Assistance for Injection Molding Success) at the NSSF 2019 SHOT Show in Las Vegas, Nevada on January 22-25, 2019. Conventus developed AIMS to help designers, those new to the plastics industry and those familiar with polymers, ensure their new product is a success.
Conventus' AIMS service implements its parts design know-how and material selection expertise, along with its network of outstanding injection molders to offering unique solutions for firearms designers and manufacturers from start to finish. The goal of AIMS is to mitigate potential pitfalls and maximize success for firearm designers and manufacturers wanting to convert metal firearm components to injection molded engineering polymers, or needing to design new firearm components that leverage the advantages and benefits of plastics.
"As a material supplier, we far too often get involved in the 11th hour of a project to fix a problem that could have been avoided early in the project's design phase. AIMS helps eliminate these headaches," says Alexander Fung, President of Conventus Polymers. "These issues have ranged from incorrect design principles required for injection molding of polymer components (vs. metals) that can result in poor product performance; lack of knowledge of properties of polymers for firearm applications which often results in improper material selection; and working with suppliers who may lack experience in the unique characteristics of firearms quality and tolerance specifications."
Over the years Conventus has gained first-hand experience, having been called in by firearms and accessories manufacturers to try to solve some of these pitfalls. With AIMS, firearms manufacturers can be better informed on design regarding the characteristics of high-performance polymers, thus helping to ensure their product's success.
"Our services such as material flow analysis and other computer-aided engineering (CAE) tools help firearms designers see where their part may fail," explains Fung. "For example, we recently helped a firearms accessories manufacturer convert from short glass to long glass fiber to improve strength and creep resistance. Our assistance in runner geometry, gate location and size, as well as material formulation were all critical in the product development cycle. Substantial adjustments to the part design were made, and an injection molder with experience in molding materials containing long glass fiber was required. The result has been excellent. The part performance exceeds customer expectations and is tremendous upgrade to the previous part it replaced."
In another example, a firm that historically made lay-up carbon fiber stocks reached out to Conventus for assistance in designing an injection molded stock. Conventus' AIMS program paired them up with a knowledgeable injection molder, helped prevent serious design flaws, and resulted in the launch of a very successful product. Best of all, there is no immediate financial commitment for this service. However, it is expected that once the project launches, the customer will be using Conventus material solutions.
In addition to the introduction of the AIMS service, Conventus will feature several new materials in the space including clear polymers such as Claramide™ clear nylons for magazines, receivers, and other accessories. Conventus recently introduced a new transparent long glass fiber (LGF) reinforced polymer called Duraflex™ TPU LGF that offers comparable strength to 50% long glass fiber filled nylon (Historically, reinforced polymers have been opaque). New long carbon fiber reinforced materials as well as high temperature resins that provide unparalleled strength and impact resistance, including their products Duramide™ PA66 to Durason XT™ PPSU, and DuraPEEK™ PEEK products, are also an important part of Conventus' portfolio for firearm manufacturing.
Conventus is committed to helping customers find the best solutions for their application requirements. Visit Conventus Polymers (Booth #S1531) at the 2019 SHOT Show Supplier Showcase.
For more information about Conventus Polymers, please visit www.conventuspolymers.com.
Contact: Kris Jommersbach
Gemini Communications
PH: + (1) 610-935-1633