New Asphalt Anchor with Pull Resistance of 1,500 lbs.
Press Release Summary: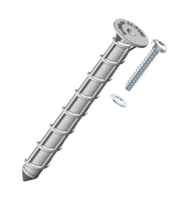 Available in 6" long with 1/4" x 1.5" screw and a washer
Designed for securing objects to an asphalt surface
Ideal for bike racks, tents, speedbumps and outdoor furniture
---
Original Press Release:
New Affordable Anchor for Asphalt
First High-Performance Molded Asphalt Anchor
West Orange, New Jersey (January 1, 2022) – Asphalt Anchors Corp. (AAC) announces the addition of a plastic molded anchor to its line of anchors for asphalt. The anchor breaks the cost/performance norm by offering performance comparable or better than a similar steel anchor at about half the cost.
BoltHold™ anchors are uniquely designed to secure objects to an asphalt surface. With many anchor sizes and varieties, objects from bike racks to tents to speedbumps to outdoor furniture are directly and securely held in place permanently.
"Ease of installation, application, use and affordability are a prime goal at Asphalt Anchors Corp.," said Dori Teich, AAC's president, "The new AM625 anchor is one more step in our efforts to keep improving for our customers."
Anchoring to asphalt is an engineering challenge because asphalt yields over time when under intense pressure. That weakness rules out the use of expansion anchors which are widely used to secure items to concrete or masonry surfaces. The BoltHold anchors use special anchoring adhesives that create a stress-free long-lasting bond between the anchor and the asphalt.
Installation requires drilling an oversized hole, filling the hole with a fast-curing adhesive, and inserting the anchor until it is flush with the surface. The anchor's internal thread accepts bolts that clamp the attachment to the anchor. The attachment can be removed for service or replaced, without affecting the installed anchors. The flush mounted anchor means that, when the attachment is removed, the anchor does not pose a danger to pedestrians or vehicles.
The AM625 ("Asphalt Molly") is 6" long, is provided with a 1/4" x 1.5" screw and a washer and requires a 7/8" hole. It is rated for 1,500 lbs. pull resistance in asphalt 2.5" thick or more, and 1,000 lbs. shear resistance. It will not rust and is designed to provide maintenance-free service for many years.
"We are particularly proud of this latest development. It is the first ever sealed plastic molded anchor suitable for heavy duty service in asphalt" said Teich. A detailed datasheet is available at https://aac.fyi/AM625_datasheet. A free sample can be requested at https://aac.fyi/sample
About Asphalt Anchors Corp.:
BoltHold™ asphalt anchors were developed in 2004 when Designated Parking Corp, a sister company, needed a method to attach its parking barriers to asphalt surfaces. By 2009 wide interest in the product lead to the formation of a separate subsidiary – Asphalt Anchors Group. (AAG), to design, manufacture, and market these specialty anchors. The fast growth of AAG lead to the 2016 incorporation of Asphalt Anchors Corp. (AAC) as a separate and independent company. AAC is a member of the Specialty Tools and Fasteners Distributors Association (STAFDA).
The company's full line can be seen on the web at www.asphaltanchors.com.
For More Information, Contact:
Dori Teich, President
Asphalt Anchors Corp.
10 Ridge Road
West Orange, NJ 07052
+1-973-669-8214
Email: marketing@asphaltanchors.com
Contact This Company Download Spec Sheet
More from Fasteners & Hardware