New Aspect 230 TIG Welder with Advanced Waveforms, Full Sequencer and Pulse Controls
Press Release Summary: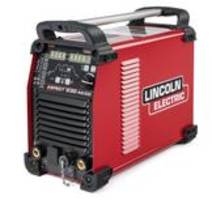 Provides maximum arc response and stability, lightweight and transport
Available in both AC/DC and DC models
Offers input power ranging from 120V to 460V
---
Original Press Release:
Weld Like a Champion with Lincoln Electric's Aspect® 230 TIG Welder
Cleveland – Lincoln Electric® has created an inverter-based arc welding power source for AC/DC TIG and Stick welding. The machine was built and designed for the avid TIG welder. The Aspect 230 TIG welder is a true professional's choice with advanced waveforms, full sequencer and pulse controls. These and other features can be easily customized to your specific application and stored in the available memory settings.
Available in both AC/DC and DC models, the Aspect 230 TIG welder provides professional industrial TIG welders with a number of features and benefits.
The unit is designed to provide the operator with maximum arc response and stability, lightweight and easy to transport, and offers input power ranging from 120V to 460V.
Also available with the Aspect 230 TIG welder is the Cool-Arc 22® cooling system and the new vertical two wheeled cart designed to work specifically with the AC/DC and DC units. The Cool-Arc 22 cooling system enables the efficient use of water cooled torches and fits conveniently into the fully mobile two-wheeled cart. The cart provides superior mobility, takes up less space on your shop floor and is equipped with integrated storage features.
For more information on Lincoln Electric's new Aspect 230 TIG welder and the Cool-Arc 22 system, visit www.lincolnelectric.com.
Lincoln Electric is the world leader in the design, development and manufacture of arc welding products, robotic arc welding systems, plasma and oxyfuel cutting equipment and has a leading global position in the brazing and soldering allows market. Headquartered in Cleveland, Ohio, Lincoln Electric has 60 manufacturing locations, including operations and joint ventures in 19 countries, and a worldwide network of distributors and sales offices covering more than 150 countries. For more information about Lincoln Electric and its products and services, visit the company's website at www.lincolnelectric.com.
Media Contacts:
Janel Hlebak – jhlebak@wearefalls.com or 216.696.0229
Greg Coleman – greg_coleman@lincolnelectric.com or 216.383.2462
More from Materials