New Antimicrobial Duct Suppresses Bacterial Growth on HVAC Systems
Press Release Summary: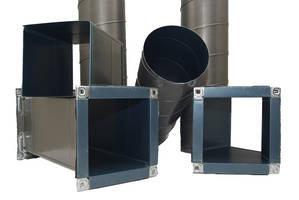 Contains silver ions that suppress microbial growth on HVAC duct surfaces
Agion based epoxy-coated galvanized steel offers corrosion and stain resistance
Ideal for manufacturing facilities and medical, hospital or nursing home facilities
---
Original Press Release:
MKT Metal Manufacturing Introduces Agion® Antimicrobial Coated Ducting Proven to Reduce The Spread of Viruses
MKT Metal Manufacturing, located in York, PA, is an authorized distributor of Agion® Antimicrobial epoxy coated Duct. These coatings contain silver ions that suppress microbial growth on HVAC duct surfaces. When microbes land on coated HVAC Ducting, there is an ionic exchange which suppresses growth of microbials and mold. Based on independent lab data, Agion treated duct has been shown to be effective for years. This product has been verified and successfully tested on many Bacteria including Campylobacter, Salmonella, E. Coli, Listeria, Staphylococcus and Legionella.
Coated Galvanized Steel benefits over Stainless Steel Ducting
Agion based, Epoxy coated galvanized steel is appreciably less than the cost of stainless steel, with the added benefit of suppressing bacterial growth. Many industries use stainless steel ducting because of corrosion resistance and stain prevention. Agion based epoxy coated galvanized steel offers comparable corrosion and stain resistance, and is a good V.E. alternative, depending on the application. Epoxy coated ducting with antimicrobial elements is a great alternative to stainless steel both economically and efficiently.
Applications:
There are many uses for Anti-microbial Duct-Anywhere there is an HVAC Systems. 
Some applications include:
Manufacturing Facilities
Medical/Hospital/Nursing Home Facilities
Pharmaceutical/BioMed
Food & Beverage Manufacturing
Multi-Family Homes
Architectural/Pre-Build Engineering
Restaurants/Grocery Stores/Retail Food Prep
Hotels/Hospitality
HVAC Contractors
About MKT
MKT Metal Manufacturing has become a leading supplier of sheet metal duct and HVAC products for the East Coast since 2004. Located in York, PA and Wilson, NC, MKT offers a variety of products in rectangular, spiral, round and specialty fabrication.
In addition, MKT offers a variety of products/services that extend beyond ductwork: specialty fabrication, fabric duct, rooftop accessories, support systems, and much more.
Providing quality products to their customers is an important principle for MKT. All fabricators are trained/educated extensively to fabricate products at the highest standards of quality.
MKT also provides services such as estimation, release coordination, pre-assembly and timely delivery. MKT truly embraces the importance of field to factory direct communication so that your products arrive quickly and correctly to your jobsite. Communication is key. MKT's customers always come first, and your projects will always be MKT's top priority.
For more information, please visit our website www.mktduct.com or call 717-764-9090.
More from Electrical Equipment & Systems