New ANSI Standard Approved to Prevent Occupational Hearing Loss in Construction and Demolition Workers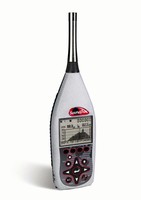 Oconomowoc, WI, April 17, 2007: - Did you know that about 30 million construction workers are at risk for occupational hearing loss? To assist in the prevention of hearing loss, the American National Standard Institute has approved ANSI A10.46-2007, Hearing Loss Prevention in Construction and Demolition Workers. This standard specifically recognizes the need for protecting workers from hearing loss within construction and demolition operations. The new standard applies to all construction and demolition workers with potential noise exposures of 85 dBA.

Quest Technologies can assist companies to comply with this new standard. The NoisePro® Dosimeters Series offers a complete range of personal noise dosimeters with user programmable settings and levels of data gathering capabilities. The NoisePro® series not only documents exposures, but also promotes active-management of daily exposures. These products coupled with our QuestSuite Professional software offer powerful solutions and management capabilities.

The SoundPro® SE & DL Series of hand held sound level meters and real-time frequency analyzers is designed to simplify the efforts required to reliably perform advanced noise analysis. The SoundPro® SE/DL Series incorporates two virtual sound level meters for simultaneous measurements for multiple regulatory requirements.

Don't get caught out of compliance! Quest Technologies has many models to choose from, we are sure to have the model that matches your requirements. For more information on the NoisePro® and SoundPro® Series models, please visit www.quest-technologies.com or call 800-245-0779.

About Quest Technologies

Quest Technologies, Inc is a world class manufacturer of industrial hygiene, occupational safety, and environmental instrumentation and software for the protection of people and the environment. Quest manufacturers instrumentation in the fields of acoustics and occupational noise assessment, human vibration, heat stress and thermal comfort, toxic and combustible gas detection, indoor air quality and others which form the nucleus of our "System Solution" for the safety, occupational hygiene, and environmental disciplines. A unique software package, QuestSuite® Professional II, combines sampling strategies from all of the Quest instruments into one comprehensive program creating the "Systems Solution" for managing, graphing and reporting, and archival of measurement data.

For more information about Quest, please visit www.Quest-Technologies.com.

More from Architectural & Civil Engineering Products