New Analog Interface Modules from Balluff are Suitable for Factory Automation Controls Architectures
Press Release Summary: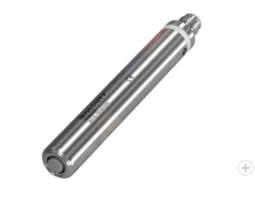 Available in BNI00C9, BNI00C7, BNI00C8 and BNI00C6 modules
Features are single channel analog interface, extended diagnostics and condition monitoring data
Can convert analog input data such as current, voltage, and RTD/thermocouple
---
Original Press Release:
Balluff Simplifies Analog Device Integration with IO-Link
Florence, Kentucky (June 28, 2019) — Balluff's newest family of single channel, analog interface modules simplify configuration and integration of analog devices by interfacing with IO-Link. Because analog devices are widely used in factory automation controls architectures, these modules can save valuable time and resources.
Balluff is introducing four second-generation, single channel analog-to-IO-Link interface modules used to convert a variety of analog input data such as current, voltage, and RTD/thermocouple measurement to digital equivalent values. And having IO-Link onboard enhances diagnostic information available. The new modules are:
BNI00C9 - Analog input conversion of input data like current, voltage and RTDs
BNI00C7 - Analog input for temperature measurement sensors, Type J, Type K, or RTDs
BNI00C8 - Analog output module with voltage or current output configurations
BNI00C6 - Universal analog module, configure as either an analog input or analog output.
These modules further simplify installations by eliminating analog in-chassis interface boards and reducing additional analog network blocks. IO-Link lets you replace lengthy shielded cable runs with basic unshielded cables.
Key features include:
Single channel analog interface modules designed to simplify analog integration
Extended diagnostics available through IO-Link communication, such as measurement out of range
18mm smooth barrel style inline design with IP67 protection rating in stainless steel housing
Condition monitoring data, such as ambient temperature and operating hours
User selectable resolution from 10 to 16 bits for digital values
Learn more at: www.balluff.com
About Balluff Inc. 
Balluff Inc. is the U.S. subsidiary of Balluff GmbH, Neuhausen, Germany. Balluff is a leading supplier of networked IO-Link control system architectures that unlock the potential of the IIoT and Industry 4.0. Balluff offers a wide range of intelligent IO-Link and industrial Ethernet sensors in a variety of technologies including inductive, photoelectric, capacitive, and magnetic as well as magnetostrictive linear position sensors, magnetic tape linear encoders, industrial RFID systems, and industrial vision systems. Balluff provides cost-saving, process-enhancing solutions to machine builders and manufacturers to control, regulate, automate, assemble, position, and monitor manufacturing, assembly, and packaging sequences. Industries served include: automotive, packaging, food processing, beverages, tire, primary metals, conventional and alternative energy, semiconductor, plastics, and fluid power.
Related