New AMiS-72 Computerized Medical Cart with iPS-M420S Power System
Press Release Summary: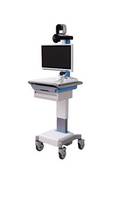 Features 21" panel PC powered by a 7th generation Intel® Core™ i5 processor for high-performance computing, a HD pan-tilt-zoom camera and high-quality speaker
Equipped with standard Gigabit Ethernet connectors and two built-in 5dB antennas that offer improved WLAN connectivity
Features motorized height adjustment and 30 kg/66.13 lb load capacity and can be integrated with optional horus scope multi-lens digital scope
---
Original Press Release:
Advantech Launches AMiS-72 Telehealth Cart for Remote Telemedicine Applications and Consultations
Taipei, Taiwan, September 23, 2020 – Advantech, a leading provider of medical computing systems and services, is pleased to announce the latest addition to its AMiS product line – the AMiS-72 computerized medical cart with iPS-M420S power system. Designed to support a wide range of telehealth applications, AMiS-72 features a 21" panel PC powered by a 7th generation Intel® Core™ i5 processor for high-performance computing, a HD pan-tilt-zoom (PTZ) camera, and high-quality speaker. To ensure access to hospital information systems (HIS) from any location within the hospital, AMiS-72 is equipped with standard Gigabit Ethernet connectors and two built-in 5dB antennas that offer enhanced WLAN (802.2a/b/g/n) connectivity. The cart's motorized height adjustment feature allows the height to be easily adjusted for maximum comfort and usability, while the fanless design ensures silent operation and easy cleaning for superior hygiene and infection control. The system I/O includes three USB 3.0, two USB 2.0, one DisplayPort, and one HDMI display output, as well as two expansion slots (one M.2 and one mini PCIe) for integrating additional peripherals, such as HD cameras, barcode readers, LAN+COM modules, and patient monitoring systems. Moreover, to facilitate remote teleconsultation and diagnosis applications, AMiS-72 is ideal for integrating with an optional MIIS Horus Scope digital scope and VSee Messenger video conferencing application. Compliant with IEC 60601-1 medical-safety, IEC 6060-1-1-2 EMI EMC standards and IPX1-rated for water resistance, AMiS-72 is certified for use in critical healthcare environments.
All-in-One Solution Optimized for Ease of Use
Advantech's AMiS-72 cart and companion power system are lightweight and ergonomically designed to ensure high mobility. The cart features large casters suitable for various floor surfaces, as well as front and rear rubber handles for no-slip handling when moving the cart. Furthermore, the expanded 46.9 x 48.9 cm (18.5 x 19.3 in) tray surface provides healthcare staff with a large workspace for convenient service delivery.
Intelligent Power Management with AMiS_Link Software
AMiS-72 is equipped with Advantech's iPS-M420S medical-grade power system that uses a Panasonic lithium-ion battery pack to deliver energies of 400 Wh and support up to 10 hours operation. Embedded with Advantech's AMiS_Link intelligent power management software for remote monitoring and control, the iPS-M420S power system is compliant with IEC 60601-1-2 medical-safety standards, ensuring safe operation in hospital environments.
Optional Digital Diagnostic Scope for Multi-Disciplinary Use
Advantech's AMiS-72 medical cart is ideal for integrating with the MIIS Horus Scope to extend the usage applications to remote diagnosis consultations. The Horus Scope multi-lens digital scope solution comfortably fits in one hand and allows diagnostic video and images to be easily captured and shared. The interchangeable lens attachments are designed to support various medical specialties, including dermatology, audiology, and dentistry.
Video Conferencing for Remote Real-Time Consultations
AMiS-72 can also be equipped with the VSee Messenger communication app, which supports multi-way video conferencing. This would allow remote physicians to converse with patients in real time, share videos and images via the screen sharing function, and review laboratory test results, CT scans, and EHR records. Physicals would be able to control the PTZ camera on the AMiS-72 cart to conduct remote physical examinations, truly expanding the accessibly of healthcare treatment.
Key Features
PTZ camera with 18X total zoom and Full HD resolution
All-in-one touch computer with Intel® Core™ i processor
Cart with motorized height adjustment and 30 kg/66.13 lb load capacity
Can be integrated with optional Horus Scope multi-lens digital scope
IPX1-rated ingress protection for superior infection control
Capable of HIPAA-compliant video conferencing
Advantech's AMiS-72 telehealth cart is available for order now. For more information regarding this or other Advantech products and services, contact your local sales support team or visit our website at www.advantech.com
About Advantech Digital Healthcare Division
Founded in 1983, Advantech is a leading provider of innovative products, services, and solutions. Advantech offers comprehensive system integration, hardware, software, customer-centric design services, embedded systems, automation products, and global logistics support. For digital healthcare, Advantech offers a range of devices specifically designed for hospital environments and certified to IEC60601-1, EN60601-1, and UL60601-1 safety standards. Emphasizing digitally integrated operating rooms, quality nursing care, and intelligent outpatient services, our medical solutions feature high-performance technology to ensure reliable operation. In collaboration with international partners, Advantech continues to assist hospitals with establishing patient-centered healthcare environments and adopting universal digital healthcare platforms.
(Corporate website: http://www.advantech.com/digital-healthcare)
Primary Media Contact:
Advantech Co., Ltd
Name: Alison Tsai 
Tel: +886-2-2792-7818 #2584
Email: alison.tsai@advantech.com.tw
Related