New AMD Ryzen and EPYC Processors Include Integrated IPMI Technology
Press Release Summary: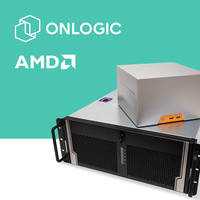 AMD Ryzen processors feature up to 8 x SATA3 or 2 x PCIe 4 x 4 by OCulink and 1x M.2 ports
AMD EPYC CPU servers available with internal or hot-swap SATA, SAS and NVMe storage options
Offer the configurability, connectivity and capabilities for use in AI, deep learning, data analytics and advanced automation
---
Original Press Release:
New Servers from OnLogic Harness Performance of AMD EPYC Processors and AMD Ryzen Processors
Built for high powered computing at the edge, these new servers offer powerful, highly-configurable performance in the data center and beyond.
South Burlington, VT - September 22, 2020 -- OnLogic (www.onlogic.com), a global industrial and IoT computer hardware manufacturer, today announced a collaboration that will provide customers with immediate access to a new line of industrial servers powered by the newest generation of AMD Ryzen™ and AMD EPYC™ processors. OnLogic's new AMD-powered server lineup combines the company's years of experience designing reliable edge computing hardware with the performance, versatility and capabilities offered by AMD technologies. These new servers are designed to offer the configurability, connectivity and capabilities for use in AI, deep learning, data analytics and advanced automation. By using AMD processors, OnLogic can further empower customers to meet their increasingly complex, data management needs.
"Data is the key to so many of the innovative solutions being built today," says Maxx Garrison, Product Management Lead for OnLogic's server line. "Our servers are designed to be flexible and configurable since each of these projects is so unique. Now, with these new AMD-powered servers, users can take advantage of the features provided by AMD EPYC and AMD Ryzen processors. We're already seeing customers prototyping some incredible things using these solutions and can't wait to see what others will create."
OnLogic's AMD-powered server lineup features a range of rackmount systems designed to be integrated into traditional server infrastructure; as well as a desk or wall-mounted unit intended for users who need server performance from a standalone device. All of the systems leverage next gen PCIe® 4 for fast data transfer, as well as integrated Intelligent Platform Management Interface (IPMI) technology for remote data management.
"We're excited that OnLogic has created this new line of AMD-powered servers," said Amey Deosthali, director, Product Management, AMD. "There will always be a need for high performance computing in traditional data centers, which is a specialty for AMD, but we're seeing servers being implemented in a range of edge computing applications, and that's where OnLogic's expertise comes into play. These EPYC- and Ryzen-powered devices will give innovators computing capabilities at the edge they simply didn't have before."
AMD EPYC CPU Servers
Powered by the 2nd Gen AMD EPYC processor family, the MK200-60 and MK400-60 servers are 2U and 4U systems respectively, offering up to 64 cores and 128 PCIe lanes per processor, including native support for PCIe 4 and dual 10Gbe ethernet.
Other key specifications include:
8 Channels DDR4, 8 x DIMM slots
Internal or hot-swap SATA, SAS and NVMe storage options
7 PCIe 4 x16 slots for next-gen expansion capabilities
AMD Ryzen Desktop Processor Powered Servers
In contrast to the majority of other AMD powered servers on the market, the other systems in OnLogic's AMD server line leverage AMD Ryzen 3000 Series desktop processors. The MK100B-40 and MK150B-40 are 1U and 1.5U systems respectively, while the MC850-40 utilizes OnLogic's MC850 industrial enclosure, creating a standalone server system that can be placed on a desk or wall mounted.
Other key specifications include:
Up to 4x DDR4 ECC and non-ECC SO DIMM, total DIMM size 128GB in a dual-channel 2 DPC configuration
Up to 8 x SATA3 or 2 x PCIe 4 x 4 by OCulink and 1x M.2 ports
Integrated IPMI 2.0 with KVM and dedicated LAN
1x PCIe 4 x 16 link + PCIe 4 x4 link from the AMD Ryzen desktop processors
2x 10 Gb LAN Intel X550-AT2
Live Launch Event
OnLogic will be hosting a live online event to highlight key benefits of the OnLogic servers and collaboration with AMD on October 6, 2020 at 11:30 AM (EDT). Please visit www.onlogic.com/live to register.
OnLogic's AMD-powered servers are available now by visiting www.onlogic.com/computers/embedded/amd-servers/. For assistance with configuration, email info@onlogic.com or call 802-861-2300.
About OnLogic
OnLogic is a global industrial computer manufacturer that designs highly-configurable, solution-focused computers engineered for reliability for the IoT edge. OnLogic systems operate in the world's harshest environments, empowering customers to solve their most complex computing challenges, no matter their industry. Fueled by a unique, direct-to-customer business model that combines vertical integration, modular product design, and a powerful online platform, OnLogic produces computers designed to last, built to order, and delivered in days. Founded in 2003 as Logic Supply, the company has offices in the U.S., Netherlands, Taiwan and Malaysia, and has helped more than 70,000 customers worldwide solve their most complex hardware challenges. Learn more about how OnLogic is helping innovators advance their ideas at www.onlogic.com, or on Twitter @OnLogic.
More from Fluid & Gas Flow Equipment