New AM65x Industrial System on Module Supports up to 4GB DDR4 with 1GB ECC and 32GB eMMC
Press Release Summary: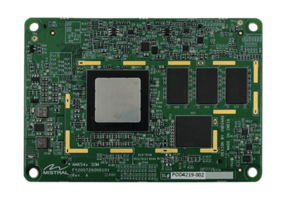 Features 64-bit quad-core Arm CortexA53 at 1.1GHz and dual-core Arm Cortex-R5F MCU subsystem
Enables industrial communication and control solutions using serial, Ethernetbased, PCIe, and industrial real-time interfaces
Ideal for designing industrial programmable controllers, industrial PC and industrial robots, grid infrastructure protection relays, edge computing and robotic motor drives
---
Original Press Release:
Mistral Announces AM65x Industrial SoM Based on TI's AM6548 SoC
Enabling Real-time Processing, Connectivity and Control system for Industry 4.0 Applications
Bangalore, India, Tuesday, 25 February 2020: Mistral Solutions, a leading technology design and system engineering company, today announced the release of AM65x Industrial System on Module (SoM), enabled by the Texas Instruments AM6548 SoC. The AM65x Industrial SoM is an easy to use, compact, lightweight SoM providing very high processing power for Industrial Control and Communication applications.
Mistral's AM65x Industrial SoM is based on TI's AM6548 SoC, which features a 64-bit quad-core Arm Cortex-A53 at 1.1GHz and a dual-core Arm Cortex-R5F MCU subsystem. With 2GB DDR4 memory on the SoC and a wide range of crucial industrial interfaces enabled via inter-board connectors, the SoM supports Industrial communication thru' the PRU-ICSS subsystem on the SoC supporting protocols like ModBus, OpenCAN, ProfiNET, ProfiBUS, Ethernet/IP, EtherCAT, EnDAT/EQEP, CCLink IEField and cycle-by-cycle PWM control. Mistral has partnered with port industrial automation GmbH for real-time protocols.
Mistral's AM65x Industrial SoM enables industrial communication and control solutions using serial, Ethernet-based, PCIe, and industrial real-time interfaces. The SoM is ideal for designing Industrial Programmable Controllers (PLC), Factory Automation with Safety Functions, Industrial PC and Industrial Robots, Grid Infrastructure Protection Relays, Edge Computing and Robotic Motor Drives.
"Mistral has always been an active player in Industrial domain, offering various industrial development platforms and IoT services. The AM65x Industrial SoM with its powerful features, is the latest addition to our list of industrial platforms, which will enable development of Industry 4.0 applications. We will be supplying the SoM in volumes to companies aiming to build and deploy industrial products", said Srinivas Panapakam, VP – PES Sales & Business development, Mistral Solutions.
"Equipped with AM6548 SoC with a quad-core Cortex-A53 processor supporting real-time industrial communication protocols and motor controls, the AM65x Industrial SoM is ideal for designs requiring, multi-protocol Gigabit communication, graphics, various sensors, functional safety features and time-sensitive-networking (TSN)", said Selvaraj Kaliyappan, Vice President – Engineering, Mistral Solutions. "While the AM65x SoM is capable of revolutionising Industry 4.0 applications with its powerful features, the Development Kit will accelerate the product development by providing advanced industrial connectivity features and computing capabilities." he added.
Application Development on the AM65x Industrial SoM is enabled with Linux Arago BSP and Android Pie which are based on TI's SDK. Mistral also has a VxWorks BSP in the roadmap.
Mistral provides customization of the AM65x Industrial SoM to support Different memory (DDR3/ LPDDR4) options with ECC, Wireless Connectivity and Custom protocol/Application software. Mistral can also custom build the SoM for different processor variants of AM65x SoC.
Mistral is a TI Design Network partner and has worked with Texas Instruments on the AM65x SoC Evaluation Module (EVM) and Industrial Development Kit (IDK).
For more information, visit www.mistralsolutions.com/AM65xSOM. For pricing and customization, please contact sales@mistralsolutions.com.
About Mistral
Mistral is a technology design and systems engineering company providing end-to-end solutions for product design and application deployment. Mistral is focused in three business domains: Product Engineering Services, Aerospace & Defence and Homeland Security. Mistral provides total solutions for a given requirement, which may include hardware design, embedded software development, systems integration and customized turnkey solutions
Mistral's Product Engineering Services are delivered through a proven development process, designed for embedded product development. Mistral's hardware and software team works together in a seamless manner providing expert product designs covering board and FPGA Designs, BSP and Firmware developments, Embedded Application developments, integration of 3rd party solutions, testing & validation, product prototyping, production coordination and product sustenance services. Mistral Solutions is a Platinum Member of Texas Instrument Design Network offering development platforms, reference designs and services in the area of software & hardware design, development and consulting on various TI DSPs platform.
Contact:
Akhila DS, Assistant General Manager – Marketing
Mistral Solutions Pvt. Ltd.
No.60, 'Adarsh Regent', 100 Ft. Ring Road,
Domlur Extension, Bangalore – 560071
Tel: 91 80 4562 1557
Email: akhila@mistralsolutions.com
More from Electrical Equipment & Systems