New Aluminum Foil Heaters for Flexible Heating, Insulating and Temperature Controlling
Press Release Summary: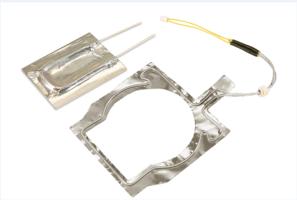 Features electric resistance and attached to a surface using built-in adhesive
Mechanically fastened using rivets and sheet metal screws
Easy-to-install solution with high value-added potential in wide variety of applications
---
Original Press Release:
BriskHeat Announces Aluminum Foil Heaters, Customizable and Affordable for a Variety of Applications
New surface heaters deliver versatility and cost-effective solutions
Columbus, Ohio, Aug. 8, 2019 – Today, BriskHeat, a leading provider of flexible heating, insulating, and temperature controlling solutions, introduced its new aluminum foil backed electric resistance heaters. BriskHeat aluminum foil heaters are custom built to the user's exact requirements and specifications. They are a cost-effective and easy-to-install solution with high value-added potential in a wide variety of applications.
"BriskHeat's aluminum foil heaters are custom manufactured to the customer's exact requirements and specifications. This combined with a low development cost makes them the premier solution for many of our customers," said Patrick Doyle, Vice President of Business Development, BriskHeat. "Custom features such as size, shape, with or without holes and cut-outs, lead wire options, lead termination options, built-in temperature control and sensors, dual-wattages, dual voltages, and more are easy to accommodate."
With virtually no design or shape restrictions, the aluminum foil heaters can be attached to a surface using a built-in adhesive, or they can be mechanically fastened using rivets, sheet metal screws, etc. An optional semi-rigid aluminum backing plate offers additional structural stability for more demanding applications. BriskHeat foil heaters carry UL, CSA, and CE industry certifications for safety and reliability.
For a free sample of the new foil heaters, contact a BriskHeat representative. For more information, visit the foil heaters page. To see the full range of BriskHeat's flexible heating solutions, visit the web site or call 888-501-7491.
About BriskHeat
Since 1949, BriskHeat has provided flexible heating solutions used for freeze protection, condensation prevention, flow/viscosity control, vacuum bake-out, composite curing, and temperature process control. BriskHeat's primary manufacturing facilities and headquarters are located in Columbus, Ohio. BriskHeat has a worldwide sales network including sales offices in Taiwan, China, Germany, and France, as well as a manufacturing facility in Vietnam. In 2017, BriskHeat was named to the Inc. 5000 list of fastest-growing private companies in America. In 2018, BriskHeat became part of NIBE Industrier AB, a global group of manufacturing companies with over 15,000 employees worldwide. Follow BriskHeat on Twitter (@BriskHeat), on Facebook or on LinkedIn.
Media Contact:
Craig Wilson
BriskHeat Corporation
614- 294-3376 ext. 1137