New AluFix Retort Xtra Can-Ends Can withstand to pH Values of 2-4
Press Release Summary: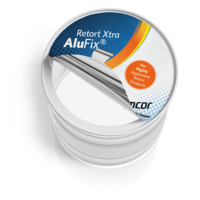 AluFix Retort Xtra Peelable Can-Ends are applied to cans with products such as condiments, dips, sauces, pickles and preserves, processed meat, seafood and fruit. Cap-ends are puncture resistant and are sealable onto both plain, PP-lacquered tinplates and aluminum rings and ensure product freshness.
---
Original Press Release:
Peel-off-End for Cans Offering Increased Convenience and Sustainability Wins the 2018 Alufoil Technical Innovation Award
An aluminium foil membrane that allows manufacturers to use more convenient and sustainable lidding for canned foods won anAlufoil Trophy 2018 in the Technical Innovation category at the European Aluminium Foil Association (EAFA) awards 2018.
Amcor's AluFix Retort Xtra is the newest addition to the successful AluFix range of peelable can-ends. The aluminium foil membrane can be applied to cans for a wide range of products including condiments, dips, sauces, pickles and preserves, ready-to-eat meals, processed meat, seafood, fruit, and vegetables. Most significantly, it is the first such membrane tailored to withstand demanding foods with low pH values of 2-4 or those containing salts, spices and oils that can corrode or damage packaging materials.
The Alufoil Trophy judges commended the easy-to-peel can-end for its low environmental impact. Recyclable in the aluminium stream, with at least 50 percent lighter weight* and up to a 30 percent smaller carbon footprint*, AluFix Retort Xtra offers a more sustainable solution than traditional ring-pull openings – a feature that typifies Amcor's commitment to sustainability on behalf of its customers.
Ready meals are a fast-growing category within food, and both can-makers and brand owners are looking to respond to market trends with convenient, appealing packaging solutions. The judging panel also recognised the excellent sealing and brand differentiation properties that AluFix Retort Xtra offers customers. The product is printable, puncture resistant and sealable onto both plain and PP-lacquered tinplates and lacquered aluminium rings.
AluFix Retort Xtra offers benefits for consumers too, owing to its high barrier properties that ensure product freshness and its easy-to-open mechanism. As Andrea Della Torre, senior R&D director at Amcor, explained, "We believe that the can end, which incorporates a tab rather than the traditional ring pull, will gain wide acceptance with both the canning industry and consumers – because it is safe, easy to use, and can be introduced without disrupting existing production programs, including retorts.
"This trophy in the Technical Innovation category also shows how Amcor is constantly innovating and improving our product portfolio. Products such as AluFix Retort Xtra give customers best-in-class technical solutions that also help differentiate them in the market."
Find out more about AluFix Retort Xtra and the entire award winning AluFix can-end range on www.amcor.com.
Amcor's ongoing innovation in peelable can-ends was also recognised at the 2017 DuPont Awards for Packaging Innovation. In partnership with Crown Holdings, Peelfit™, using Amcor's CanSealPro peel-off-end, earned a gold award in the Technological Advancement and Responsible Packaging categories.
*Estimates based on an ASSET lifecycle assessment comparison of easy-open ring-pull end (diameter 99 mm, weight 1,97 kg/m2) and AluFix® peel-off-end (diameter 99 mm, weight 0,67 kg/m2); assuming full waste recycling
About Amcor
Amcor (ASX: AMC; www.amcor.com) is a global leader in developing and producing high-quality, responsible packaging for a variety of food, beverage, pharmaceutical, medical-device, home- and personal-care and other products. Amcor works with leading companies around the world to protect their products and the people who rely on them, differentiate brands, and improve supply chains, through a broad range of flexible packaging, containers, cartons, closures and services. The company's 35,000 people generate more than US$9 billion in sales from operations that span 200-plus locations in more than 40 countries.
The Alufoil Trophy
The Alufoil Trophy is organised by the European Aluminium Foil Association. There are five categories: Consumer Convenience, Marketing and Design, Product Protection, Resource Efficiency and Technical Innovation. Judges also gave an award for Application Innovation. For 2018 there were 10 winners.
More from Electronic Components & Devices