New ADINS Flame-retardant Synergists for PP, PVC, Rubber Polymer Systems and Silicones
Press Release Summary: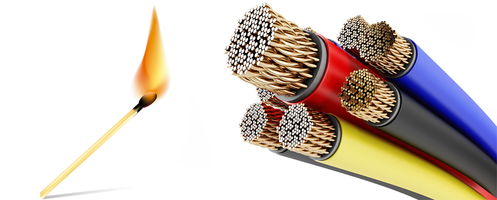 Clay synergists deliver reduced smoke production and improved heat release
Decreases and delays the peak of heat release rate and acts as a smoke suppressor
Improved cost efficiency of the formulations with intumescent flame retardants
---
Original Press Release:
Tolsa to Announce Expansion of ADINS® Flame-Retardant Synergist Line at K 2019
Madrid, Spain, July 23, 2019 – Tolsa, Madrid, Spain, a leading supplier of flame retardant synergists and specialized additives for the wire and cable, construction, railway, transportation, and electronics industries, has launched an extension of its ADINS® range of flame-retardant additives for PP, PVC, rubber polymer systems, and silicones. Tolsa will highlight the new materials at the K 2019 exhibition (Hall 8/D46) which runs Oct. 16-23 in Düsseldorf, Germany.
The new ADINS® Clay synergists deliver reduced smoke production and improved heat release in PP, PVC, and rubber polymer systems, in addition to the existing FR additives used in other polymers. "Our unique FR technology continues to evolve and we see continuing growth for clay synergists in a wide range of systems that require the highest standards of flame retardancy," said Antonio Esteban, Technical Manager for Tolsa's Special Additives Business Unit. "Our materials are highly versatile and can be fine-tuned to meet the high-performance needs of formulators and end users."
ADINS flame retardant technology offers a versatile product range of additives for polymers that act as synergists with halogen and halogen-free flame retardant systems. Sepiolite clay supports char creation, enhancing its mechanical properties in halogen-free systems and thanks to their structure, have very effective anti-dripping effect. Tolsa's flexible technology facilitates modification of the sepiolite clay to meet the OEM's strict requirements in terms of heat and smoke performance. The natural silicate clay can be modified with smoke suppressors, low-melt temperature glass, or gas-phase FR to attain good dispersion and interaction with the polymer and boost FR performance.
Tolsa's expanded product line includes a new grade which uses titanium dioxide to improve the performance of intumescent systems for PP and coatings. This new ADINS Clay grade demonstrates further stabilization of the char in intumescent systems (dosages of around 1-2%), improving the flame retardant efficiency. In intumescent systems, ADINS Clay decreases and delays the peak of the heat release rate and acts as a smoke suppressor. The use of ADINS Clay leads to improved cost efficiency of the formulations with intumescent flame retardants. Key end-use applications include transportation, pipe, coatings, and wire and cable.
Tolsa has also introduced ADINS Clay Sil1, which is utilized in silicones and PVC formulations, delivering reduced heat release and smoke suppression. It serves as an effective alternative to antimony trioxide (ATO), thus easing environmental concerns.
Another new grade, ADINS Clay G1, containers boron glass and serves as a ceramifying additive. It improves the mechanical performance of the char formation. ADINS Clay G1 is based on an activated natural silicate, with boron compounds, that in combination with flame retardants, allows for obtaining a ceramifying layer under fire conditions. This additive forms a strong reinforcing network within the flame retardant by creating an extremely consistent char that reduces the peak and the total heat release. ADINS Clay G1 is especially effective in reducing total smoke production (dosages of around 3-5%) in rubber formulations. Key application areas include cable and rubber compounds for transportation.
ADINS additives enable compliance with the most stringent international health and safety regulations such as the European Construction Products Regulation (CPR) and the Railway EN45545 regulations.
The company is also focused on translating its unique FR technology to other polymer matrices including nylon, polycarbonate, and thermosets.
About Tolsa
TOLSA, based in Madrid, Spain, has one of the broadest ranges of special clays worldwide, offering additives and industrial products that provide high added value and improve the performance and efficiency of materials. Also, TOLSA is the largest European manufacturer of pet hygiene products, marketed under its own brands as well as private label.
The company has more than 20 mining operations to produce the highest quality sepiolite, bentonite, attapulgite, phosphates, peat, and marble, which generate more than 100 million tonnes of raw materials. The acquisition of new deposits is a key priority in order to renew reserves as well as to offer each customer new raw materials to meet their needs.
TOLSA focuses on intelligent production that is modern, efficient, flexible, safe, and respectful of the environment. Each process is subjected to stringent quality controls, and the company is certified under ISO 9000 and ISO 14000. TOLSA has a production capacity of more than 1 million tonnes, and its factories are located near mining operations, or in port areas near our markets. For more information about TOLSA, visit www.tolsa.com/adins.
Press Contact: 
Joseph Grande
J. Grande communications Inc.
413.684.2463
joe@jgrandecommunications.com
More from Controls & Controllers