New Adhesion Test Analyzer Can Share the Test Results Electronically
Press Release Summary: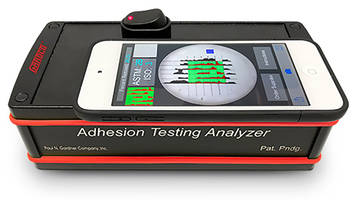 The Adhesion Test Analyzer (ATA) automatically calculates and discovers classification rating of a coating. The unit is offered with a smart device, power bank, hard carrying case, a 9 V battery for LED ring light and an AC adapter and cable. It increases the repeatability of testing program.
---
Original Press Release:
Introducing the New Adhesion Test Analyzer
Easily Read Results of ASTM D3359: Standard Test Methods for Rating Adhesion by Tape Test
The Adhesion Test Analyzer (ATA) takes all of the guess work and subjectivity out of rating the classification of your adhesion results as defined in the ASTM D3359 standard, and is accomplished with one simple instrument.
The cross hatch tape test method, also known as ASTM D3359, is a simple qualitative means of classifying a coating's adhesion. The problem with this method alone is that if some amount of coating is removed from the substrate after the test, it can be difficult to properly estimate the percentage removed and the resulting classification rating.
US Patent #9,841,369
But the ATA can automatically calculate and discover the classification rating of a coating. Since the test site has been digitized in order to calculate the amount of coating removed, it is easy to share electronically with interested parties.
Features
Take the guesswork out of your test results
Improve the repeatability of your testing program
Have confidence in the Classification Rating regardless of user
Easily share test results electronically with interested parties
Item No. PA-917010
What's Included
Apple-branded Smart Device, A.T.A. Smart Device App, Power Bank for charging in the field, Hard Carrying Case, AC Adapter & Cable, 9V battery for internal LED ring light within stand and Instruction Manual.
Contact:
Sherri B. Thompson, Advt/Mktg Manager
Paul N. Gardner Company, Inc.
316 NE 1st Street, Pompano Beach, FL 33060
(954) 946-9454 or visit Gardco.com
More from Material Handling & Storage