New Adaptek Line of Pouches and Panels are Impact Resistant
Press Release Summary: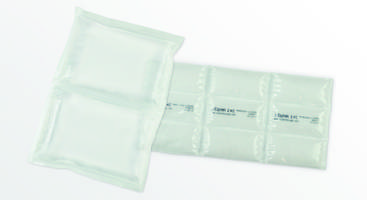 Maintains safe temperature within a specific threshold during transportation
Ability to recycle and use many times
Customizable in temperature and size
---
Original Press Release:
Microtek Laboratories Providing Thermal Shipping Control to Ensure Brand Integrity
Protective shipping panels and pouches maintain temperature control to ensure products arrive safely.
October 9, 2019; Dayton, OH – Temperature variation presents shipping problems for pharmaceutical, medical device and other perishable or temperature-sensitive products. While ice has traditionally been used to keep such products cool, it introduces complex issues associated with condensation and freezing. It can also add extensive shipping costs due to the added weight it creates. Today, Microtek Laboratories, Inc. (a Division of CAVU Group), is providing the solution.
The company's adaptek line of pouches and panels maintains safe temperature within a specific threshold during transportation. Customizable, reusable and recyclable, adaptek provides shipping confidence with minimal cost of implementation.
Adaptek Benefits Include:
Reduced condensation
Means of insulation
Ability to recycle and use many times
Customizable in temperature and size
Flexible in form
Impact resistant
From shipping or an in-person delivery, adaptek offers protection from temperature excursions.
CAVU President & CEO, Randall Lane comments:
"With the ability to control thermal energy for a variety of applications, Microtek is at the forefront of thermal management solutions. As manufacturers continue to introduce innovative new products, it is imperative that logistics keeps pace to ensure their safe and affordable delivery. While continuing to advance adaptek panels and pouches, we are aggressively investing in the development and testing of new technologies to further enhance and extend temperature management and control."
Microtek Laboratories
Microtek Laboratories has expanded their offerings beyond raw PCM to product-based solutions that give a warming, cooling or stabilizing affect to temperature including PCM pouches, panels and foam. Microtek is a division of CAVU Group - a privately held, vertically integrated family of companies, driven to provide innovative technologies, increase customer satisfaction, brand protection and consumer safety through the combined strengths of its subsidiaries. Collectively these companies allow CAVU to provide manufacturers, suppliers and distributors with the industry's most advanced and complete temperature monitoring and management solutions. 
About CAVU Group
Headquartered in Dayton, Ohio (USA), CAVU Group is a leading global provider of temperature monitoring and management solutions for industry's most critical applications. Our precision, industry knowledge and enthusiasm for innovation provide the strong foundation our customers rely on to ensure brand integrity throughout the product lifecycle.
CAVU (Ceiling and Visibility Unrestricted) is an aviation acronym that represents ideal flying conditions. Our name reflects the entrepreneurial spirit of the region's great aviation heritage. With ideal conditions, we are unrestricted on the possibilities to impact the everyday lives of our customers.
Learn more at www.cavu-group.com
Contact:
Carissa Smith, Marketing Director
CAVU Group
937.429.2114 x106
More from Machinery & Machining Tools