Stepper Motor Controllers and Drives
New ACR7000 Controllers from Parker are Ideal for Tabletop and Laboratory Style Instruments
Press Release Summary: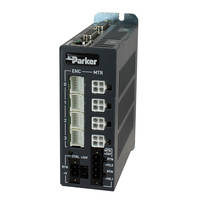 Offers ethernet communications, RJ-45 Connection, selectable micro-stepping resolution up to 51,200 steps/rev and four micro-stepping drives with up to 4Amps for each motor
Includes 800MHz ARM Cortex A8 processor, 24VDC motor input power and four encoder inputs
Features Parker Motion Manager (PMM) software development tool that has ACR-View and years of user feedback
---
Original Press Release:
Introducing the ACR7000, a New Family of Integrated Controller Products
October 17, 2019 — Parker's Electromechanical & Drives Division North America is pleased to announce the release of the ACR7000 series controllers. The new ACR7000 series combines performance, value and scalability that exceeds OEM expectations. Built on the well-known ACR9000 platform, the new family utilizes re-imagined hardware designs, ideal for tabletop and laboratory style instruments. With the power and flexibility of the AcroBasic language, the ACR7000 series is the perfect building block for customer specific motion system solutions.
"The first member of the ACR7000 family packs a versatile motion controller, efficient, high-performance stepper drives, and fast Ethernet communications into a compact, space-saving package," says Jim Wiley, Product Manager for Parker. "The all-in-one design will not only reduce the footprint of the control system but also eliminates the numerous connections and cables between drive and controller."
Hardware features include:
800MHz ARM Cortex A8 processor
Ethernet Communications, RJ-45 Connection
24VDC Motor Input Power and separate 24VDC control power
Four micro-stepping drives with up to 4Amps for each motor
Selectable micro-stepping resolution, up to 51,200 steps/rev
Four Encoder inputs for optional position maintenance or position verification functions
On-board I/O, including high-speed trigger inputs and encoder-based outputs
The release of the ACR7000 also introduces a new software development tool, Parker Motion Manager (PMM). Parker Motion Manager combines the best of Parker's ACR-View (a powerful code-development tool) and years of user feedback in a modern, user-friendly, and scalable software development environment. A stream-lined set-up wizard and new-look software oscilloscope are among the exciting features in PMM.
For more information on Parker's new ACR7000 series and to download the new Parker Motion Manager software, please visit http://www.parkermotion.com/7000.
About Parker Electromechanical & Drives Division
A division of Parker Hannifin Corporation's Motion Systems Group, EM&D is a pioneer, developer, and manufacturer of full-spectrum computer-based motion controllers, servo/step motor drives, servo motors and human-machine interfaces, positioning systems, gearheads and gear motors. These products automate the manufacturing of a significant fraction of the world's goods and services. Electromechanical Automation products are sold via independent authorized Automation Technology Centers—a group of nearly 100 professional, highly trained organizations with more than 135 points-of-presence throughout the world.
About Parker Hannifin
Parker Hannifin is a Fortune 250 global leader in motion and control technologies. For more than 100 years the company has engineered the success of its customers in a wide range of diversified industrial and aerospace markets. Parker's engineering expertise and broad range of core technologies uniquely positions the company to help solve the world's greatest engineering challenges. For more information, visit parker.com/aboutus
Contact: Jim Wiley - 707-584-2541 / jwiley@parker.com