New Accuchiller TCF Chiller Utilizes Hybrid Film Evaporation System
Press Release Summary: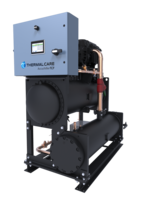 Offered with technologies such as adiabatic fluid coolers and free cooling system designs
Equipped with advanced PLC control system to control, monitor and maintain reliable operation of pumping system
Features color touchscreen that displays operational screens such as stamped faults or alarms and compressor and pump hours
---
Original Press Release:
Thermal Care Launches Breakthrough Hybrid Evaporative Cooling System
 New Accuchiller TCF Chiller Cuts Energy Use by 34%
NILES, Ill., February 13, 2019 – Thermal Care, a leading manufacturer of process cooling equipment, has announced the commercial launch of a breakthrough hybrid film evaporator chiller that reduces energy use by 34% and uses less refrigerant than competitive flooded chillers.
The company's new Accuchiller TCF model chiller uses a Hybrid Film Evaporator which provides the energy efficiency of wet (flooded) systems in a compact footprint using less refrigerant, according to Bob Smith, Thermal Care's Director of Product Management. The Accuchiller TCF is Thermal Care's first Hybrid Film Evaporator system and builds on the success of the company's industry-leading variable-speed, centrifugal compressor systems. Thermal Care also combines the energy savings of the new TCF chiller with their other energy savings technologies like adiabatic fluid coolers and free cooling system designs.
"With this significant new advancement, Thermal Care is elevating energy-efficient process cooling to the next level," said Smith. "Industrial users can now realize the benefits of both the efficiencies of a flooded chiller and variable-speed centrifugal compressor that deliver energy efficiency, reduced refrigerant use, and a smaller physical footprint."
The new Accuchiller TCF was developed in response to market demand for improved energy efficiency and reduced refrigerant charges. Thermal Care is one of the first industrial chiller manufacturers to commercialize this breakthrough technology for process cooling market segments including plastics processing, food processing, metalworking, and other key industries.
Unlike current flooded evaporative systems which immerse copper water tubes in liquid refrigerant, hybrid film evaporation systems use a thin film of refrigerant to achieve more energy efficiency with a reduced amount of refrigerant.
The hybrid technology boasts a compact modular design, providing a 25% smaller footprint which maximizes floor space and helps to reduce production costs for manufacturers such as plastic injection molders.
The Accuchiller TCF also features Thermal Care's unique advanced PLC control system which controls, monitors, and maintains stable and reliable operation of the pumping system. A durable color touchscreen displays a variety of operational screens for an uncomplicated view of the system, including time stamped faults or alarms and compressor and pump hours. The Accuchiller TCF is also equipped with an Ethernet port and is fully compatible with the company's CONNEX4.0 plant-wide equipment remote control and monitoring system.
About Thermal Care
Founded in 1969, Thermal Care is a developer of leading-edge process cooling technology with energy-saving and cost-efficient product designs. The company provides heat transfer equipment to more than 50 industries and specializes in meeting the specific needs of all customers by offering both standard and custom designed industrial process cooling solutions. Thermal Care's broad product line includes portable and central chillers, cooling towers, pump tanks, and temperature controllers. The company also delivers extensive experience and engineering knowledge to develop and execute plant-wide cooling solutions. For further information, call (847) 966-2260 or visit www.thermalcare.com.
PRESS CONTACT:
Joseph Grande
J. Grande communications Inc.
413.684.2463