New Access Control System Offers Network and Cellular-Based Connectivity
Press Release Summary: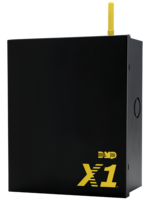 Support up to 1,000 doors on a system in the cloud
Support for OSDP and Wiegand reader protocol
Can manage access control and intrusion and even video systems
---
Original Press Release:
Introducing DMP's Stand-Alone Access Control Solution
SPRINGFIELD, Mo. — Feb. 1, 2021 For access-only applications, security companies can now get exactly the features and functionality they need without wasting money on a more complicated system. DMP's new cloud-based X1 Series delivers a solution that's simple to program, fast to install, easy to use and most important, it's very reasonably priced.
"If you're using Brivo, Prodatakey, OpenPath, Feenics or any other access control product, You owe it to your business to give the X1 a closer look," says Jon Adams, executive director of business development. "The X1 is uniquely designed with combined features you can't find anywhere else."
What's Unique About the X1?
This stand-alone system offers network and cellular-based connectivity so customers' access control functions are never vulnerable to normal network outages. And, unlike other access offering, the X1's optional cellular module can be used as the primary or backup for an entire system to ensure constant communication with the cloud.
DMP's new X1 Series also provides:
Easy scaling from single- to multi-site applications: The X1 Series can support up to 1,000 doors on a system in the cloud. To add more doors locally without adding multiple X1s, the X1-8 is a cost-effective solution. Even if a system has multiple buildings that are managed from one location, all of the controllers are tied to one cloud-based administrative portal. Even if a system's X1s are not physically connected, system managers can add users to groups for access permissions that work across an entire system. They can also create and manage any number of custom rules to send notifications or trigger outputs on certain events. A rule can be created to trigger a Lockdown across an entire system, for instance, if one access control door is forced open.
Add-on module for PoE: A small and inexpensive item for technicians to carry in their trucks and have ready depending on what they encounter in the field. This allows them to easily deploy powered devices in locations without electrical circuitry. 
Support for OSDP and Wiegand reader protocol: A few other access control products have the OSDP option, but only DMP offers OSDP for any and all readers when your customer needs enhanced security.
All This and More
Programming the X1 is only a few simple steps, all through DMP's cloud-based administrative portal making installations quick and easy. And for customers' convenience, Virtual Keypad™ streamlines their ability to remotely monitor and manage their DMP systems based on their security profile. Even if customers have a DMP intrusion system for home security and an X1 Series for their businesses, rather than using two or three separate apps, they can manage their access control and intrusion and even video systems, all with the powerful and intuitive Virtual Keypad app or desktop solution.
Learn More
Those who are interested in learning more about the X1 Series should call 877-757-4367 to speak with a member of DMP's dedicated X1 sales team or visit DMP.com/X1.
Contact: Mark Hillenburg - 800-641-4282 
More from Fluid & Gas Flow Equipment