New AC-DC Power Supplies with Power Capability of 144W and 288W
Press Release Summary: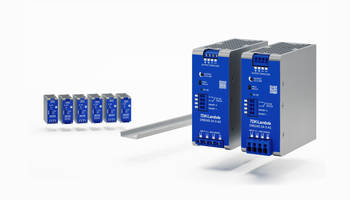 Features high efficiency, up to 94% with low off-load power consumption
Offers low energy inrush current to avoid nuisance tripping of circuit breakers
Ideal for industrial machinery and systems, conventional switch cabinets and communications equipment
---
Original Press Release:
120W and 240W Three Phase DIN Rail AC-DC Power Supplies Have a +20% Peak Rating and Low Inrush Current Energy Level
TDK Corporation (TSE 6762) announces the introduction of the TDK-Lambda brand three-phase DRB120 and DRB240 DIN rail mount AC-DC power supplies. The models are rated at 120W and 240W with a two second peak power capability of 144W and 288W, allowing for operation with inductive and capacitive loads. On initial start-up the products have a low energy inrush current that helps to avoid nuisance tripping of circuit breakers when multiple units are installed in a system.
These new DRB models are designed for a broad range of applications, including industrial machinery and systems, as well as conventional switch cabinets and communications equipment.
The power supplies accept a three phase 350 to 575Vac input, with output voltages of 12V or 24V rated at 120W, and 24V or 48V rated at 240W. The DRB series has a wide adjustment range of 11.4 to 15V, (12V model), 22.5 to 29V (24V models) and 45 to 56V (48V model) to compensate for voltage drops in wiring, ORing FETs for redundant operation or to accommodate for non-standard output voltages.
For larger power systems or N+1 redundant systems, a front panel DIP switch enables droop mode current sharing for parallel operation. For output voltage monitoring, a front panel LED indicator and a DC OK relay contact are available. Remote on/off is possible using a closed relay contact or <4V input.
All units are enclosed in a compact, rugged metal case measuring 55mm wide, 129mm high and 138.2mm deep, allowing more space for other products to be mounted on the DIN rail. Users can chose between screw terminations or push-in wire connectors for input and output wiring.
The three phase convection cooled DRB models are rated for operation in -25 to +70°C ambient temperatures, with derating above 55°C. The operating efficiency is 94%, thus reducing power losses and lowering internal temperatures for a longer field life. The low off-load power consumption can be reduced even further to below 2.3W by using the remote on/off function to reduce energy consumption.
Safety certifications include IEC/EN/UL/CSA 61010-1, 61010-2-201, 62368-1, EN 60204-1, IEC/EN 62477-1, 61204-7, 61558-2-16 and are CE / UKCA marked to the Low Voltage, EMC and RoHS Directives. The units also comply with EN 55011-B and CISPR11-B radiated and conducted emissions and meet the EN 61000-3-2 (Class A) harmonic currents and IEC/EN 61000-6-2 immunity standards. Input to output isolation is 3,510Vac, input to ground 2210Vac and output to ground 1,390Vac. The earth leakage current is less than 1mA with a 575Vac 60Hz input.
More information can be obtained at https://product.tdk.com/en/power/drb or by calling 800-LAMBDA-4. Product availability for the three phase input DRB DIN rail mount power supplies can be found via the link to TDK-Lambda's distributor network (see "Check Distributor Inventory") at https://www.us.lambda.tdk.com.
Main applications
Industrial machinery and systems, conventional switch cabinets and communications equipment.
Main features and benefits
High efficiency, up to 94%
Narrow case width
Curve B radiated and conducted EMI
Long E-capacitor life (typically 10 Years)
Low off-load power consumption
Key data
Model -- DRB120-xx-3-Ax -- DRB240-xx-3-Ax
Input voltage range -- 3-phase 350 - 575 Vac
Output voltages -- 12V, 24V or 48V
Maximum output power -- 120 W (144 peak for 2s) -- 240 W (288 peak for 2s)
Efficiency -- Up to 94%
Safety Certifications -- IEC/EN/UL/CSA 61010-1, 61010-2-201, 62368-1 -- EN 60204-1, IEC/EN 62477-1, 61204-7, 61558-2-16
Size (W x H x D) -- 55 x 129 x 138.2 mm
Warranty -- Three years
About TDK Corporation
TDK Corporation is a world leader in electronic solutions for the smart society based in Tokyo, Japan. Built on a foundation of material sciences mastery, TDK welcomes societal transformation by resolutely remaining at the forefront of technological evolution and deliberately "Attracting Tomorrow." It was established in 1935 to commercialize ferrite, a key material in electronic and magnetic products. TDK's comprehensive, innovation-driven portfolio features passive components such as ceramic, aluminum electrolytic and film capacitors, as well as magnetics, high-frequency, and piezo and protection devices. The product spectrum also includes sensors and sensor systems such as temperature and pressure, magnetic, and MEMS sensors. In addition, TDK provides power supplies and energy devices, magnetic heads and more. These products are marketed under the product brands TDK, EPCOS, InvenSense, Micronas, Tronics and TDK-Lambda. TDK focuses on demanding markets in automotive, industrial and consumer electronics, and information and communication technology. The company has a network of design and manufacturing locations and sales offices in Asia, Europe, and in North and South America. In fiscal 2021, TDK posted total sales of USD 13.3 billion and employed about 129,000 people worldwide.
About TDK-Lambda Corporation
TDK-Lambda Corporation is a trusted, innovative leader and global supplier of highly reliable power conversion products for industrial and medical equipment worldwide.
TDK-Lambda Corporation is aligned for fast responses to any customer need with R&D, manufacturing, sales and service locations in five key geographic regions, namely Japan, EMEA, Americas, China and ASEAN.
For more details, please pay a visit to: www.jp.lambda.tdk.com/en/
Contacts For Regional Media:
Americas
Tom Tillman
TDK-Lambda Americas
+1-619-575-4400
tom.tillman@us.tdk-lambda.com
Contact This Company Download Spec Sheet
More from Electrical Equipment & Systems