New 8500B Series of Programmable DC Loads Suits for Testing DC-DC Converters
Press Release Summary: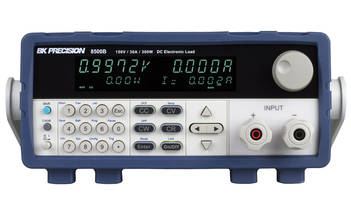 Measures 0.1 mV / 0.1 mA of resolution for a 16-bit measurement system
Offers up to 10 kHz transient mode in Constant Current mode and supports flexible triggering options
Available in four models each in 2U (half-rack) form factor
---
Original Press Release:
B&K Precision Releases All New 8500B Series Programmable DC Electronic Loads
Improved accuracy, resolution and transient mode speed
YORBA LINDA, CA, June 12, 2019 -- B&K Precision, a leading designer and manufacturer of reliable, cost-effective test and measurement instruments today announced their new 8500B series of programmable DC loads, improving upon all aspects of its popular 8500 Series, and further establishing themselves as an industry leading manufacturer of DC Electronic Loads.
These new loads are a cost-effective alternative to B&K Precision's 8600 Series which come with a similar feature set. For system integrators, the 8500B series offers backward compatibility with the legacy 8500 series protocol as well as support of industry-standard SCPI commands. Equipped for a variety of benchtop and production line applications, the 8500B series is suitable for testing DC-DC converters, batteries, battery chargers, and photovoltaic arrays
Key Features
Constant Current (CC), Constant Voltage (CV), Constant Resistance (CR), Constant Power (CW) operation
List mode, transient operation, automatic test mode, battery test function, adjustable slew rate
Transient mode up to 10 kHz in CC mode
16-bit voltage and current measurement system providing up to 0.1 mV / 0.1 mA of resolution
Full OVP/OCP/OPP/OTP including local and remote reverse voltage (LRV/RRV) protection
Built-battery test function
Flexible triggering options: front panel, external input, timer, or bus
Multi-type input terminals for banana jack or spade type connectors
These loads also include PC software for front panel emulation and generating test sequences and are compatible with B&K Precision's battery test software for discharge tests.
The 8500B series consists of four models each in a 2U (half-rack) form factor with a starting price of $910 and backed by a 3-year standard warranty.
For additional technical specifications, accessories, and support documents, visit: https://www.bkprecision.com/products/dc-electronic-loads/8500B-8500b-300-w-programmable-dc-electronic-load.html 

Hi-Resolution Photos
About B&K Precision
For more than 60 years, B&K Precision Corporation has been building a reputation for excellence in the design and manufacture of reliable and cost-effective test and measurement instruments. The company's products are used in a wide range of applications including design, research and development, production line testing, industrial maintenance, and electronic field service. B&K Precision test and measurement instruments are standard equipment in a large number of universities and technical schools which train future engineers and technicians. B&K Precision was founded in 1951 and is headquartered in Yorba Linda, California.
Contact:
Renato Araga | raraga@bkprecision.com | (714) 921-9095
More from Chemicals & Gases