New 6DoF Plug & Play USB Vibration Measurements System - Model 5384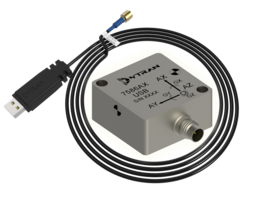 May 22, 2018 – Chatsworth, California, USA – Dytran Instruments, Inc. (www.dytran.com) a leading manufacturer of piezoelectric and DC MEMS accelerometers, force and pressure transducers and associated electronics, is pleased to announce the innovative VibraScout™ 6DoF USB six degree of freedom sensor for measurement and analysis of static and dynamic events. The VibraScout™ 6DoF is an innovative, cost-effective, plug-and-play, portable data acquisition system. It contains an 8-pole elliptical anti-aliasing filter and measures X, Y, Z acceleration, as well as roll, pitch, yaw.
In-field data collection, Noise, Vibration and Harshness (NVH) studies, end-of-line testing, static angular measurements, ride quality, vibration measurement and diagnosis of rotating machinery are all possible with VibraScout™ 6DoF. Simply load the VibraScout™ software on a laptop or tablet and plug the sensor cable into the USB port.
VibraScout™ 6DoF can plot recorded data, zoom and select a specific timeframe of recorded data for post-processing, reproduce interpolated oversampled data to provide better resolution of vibration signals, export multiple file types including time data, FFT, PSD and CPB in CSV, JPG, UFF58, and MAT LAB formats. An Application Programming Interface (API) is available for customers who would like to build custom applications for the VibraScout™ 6DoF. The API provides support for any .NET-compatible client application. Custom application development is also available.
The variable capacitance (VC) triaxial accelerometer and gyroscopes are protected inside a small, hermetically sealed titanium housing weighing 25 grams making it ideal for use in harsh environments. The frequency range of the VibraScout™ 6DoF accelerometer is 0 Hz (DC) to 1,000 Hz and the gyro sensor is 0 to 140 Hz. Units are ruggedized to 3,000g shock.
For more information about the Model 5384 VibraScout™ 6DoF, please contact sales@dytran.com.
About Dytran Instruments, Inc.:
Dytran Instruments, Inc. is the industry leader in innovative sensor technologies for product development testing and embedded solutions. Dytran specializes in designing and manufacturing custom high-end sensors, including piezoelectric and MEMS accelerometers, dynamic force and pressure transducers, USB accelerometers with software included, and digital bus-based sensors. Our products are used extensively in aerospace, automotive, military, R&D, test and measurement and industrial applications. Founded in 1980, we are an AS9100 and ISO17025 / A2LA certified company. Dytran has been serving the test and measurement community with innovative products and outstanding customer service for over 30 years. With a worldwide network of distributors and representatives, Dytran is ready to work closely with customers in developing unique solutions to their test and measurement challenges.
Learn more at www.dytran.com and on Linkedin, Facebook and Twitter.
Editorial Contact:
Judith Villalobos
Marketing Specialist
Dytran Instruments, Inc.
21592 Marilla Street
Chatsworth, CA 91311
Tel: 818-700-7818
More from Sensors, Monitors & Transducers