New 6300P Series Features Heavy-duty Linear Pneumatic Seal Actuation and High Strength Stiffened Seal Bar Construction
Press Release Summary: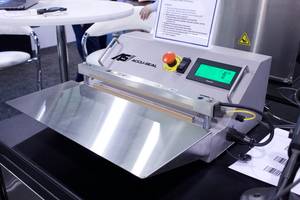 Seal lengths/width are 15, 20 and 25 inches/0.375 inches
Features digital high-speed PLC controller with an LCD touchscreen
Made up of rugged 304 stainless steel construction and suitable for the medical as well as pharmaceutical industry
---
Original Press Release:
SencorpWhite Releases its New 6300P Series
This new and improved addition to the Accu-Seal family is suitable for the medical and pharmaceutical industry
Accu-Seal, a wholly-owned subsidiary of SencorpWhite, the recognized global leader in high quality, end-to-end solutions for automated packaging, integrated AS/RS systems, and warehouse automation software, announced the immediate availability of its 6300P Series.
The seal lengths/width are 15, 20 and 25 inches/0.375 inches. The series features heavy-duty linear pneumatic seal actuation and high strength stiffened seal bar construction. A digital high-speed PLC controller is included with an LCD touchscreen. Optionally, users can choose to have a data acquisition system with the sealer. This would include seal parameter collection and reporting, as well as peripheral interface capability such as a barcode scanner.
This series benefits from rugged 304 stainless steel construction, selectable and programmable seal modes, and external calibration verification ports for seal temperature, time and pressure.
Seal and temperature and pressure limit alarm settings are part of the 6300P Series. In addition, the sealer has thermal overload protection and is ISO 11607 compliant.
About SencorpWhite:
SencorpWhite, a Connell Limited Partnership portfolio company, is a leading provider of unique end-to-end solutions for the packaging and management of high-value inventory. The company's products and services--which range from Sencorp brand innovative thermoformers, CeraPak and Accu-Seal brand packaging technologies to White brand automated storage and retrieval systems and Intek and Minerva inventory management software--cover the entire supply chain, from the point-of-manufacture through distribution and point-of-use. For more information, call (508) 771-9400 or visit http://www.sencorpwhite.com.
About Connell Limited Partnership:
Connell Limited Partnership is a family-owned business headquartered in Boston, Massachusetts. Connell has a history of owning and operating industry leading manufacturing companies that provide superior products, exceptional customer service and operational excellence to market leading OEMs. The Connell family is dedicated to supporting a wide range of philanthropic endeavors, with a large commitment to the medical field, including the William F. Connell School of Nursing at Boston College, the Connell and O'Reilly Families Cell Manipulation Core at the Dana Farber Cancer Institute, the Connell Nursing Research Scholars Program at Massachusetts General Hospital and the William F. Connell Emergency Department at St. Elizabeth's Hospital. More information is available at http://www.connell-lp.com.
For more information, please contact:
Accu-Seal SencorpWhite, Inc,
225 Bingham Drive, San Marcos, CA 92069 USA | 760-591-9800 | sale@accu-seal.com
Attention: Davis Olney
Agency contact :
Tim Daro
Bernard & Company
847-934-4500
More from Fluid & Gas Flow Equipment