New 4-Channel ET-4 Expert Transient Features up to 14 GB of Local Non-volatile Memory
Press Release Summary: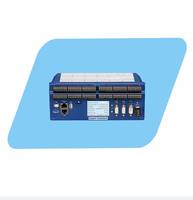 Supports USB, NFS, CIFS data storage and FTP/SFTP file transfer
Includes RS-232, RS-485, CAN, ModBus RTU, ModBus TCP, and PROFIBUS interfaces
Designed for applications that require high speed acquisition of transient or periodic signals
---
Original Press Release:
New 4-Channel ET-4 Expert Transient from Delphin
CAS DataLoggers, in partnership with Delphin Technology, introduces a new model of the Expert Transient data acquisition system, the 4 channel ET-4. Designed for data acquisition and fault diagnostics, this system is especially suited for smaller applications that only require a few analog input channels. A key feature of the Expert Transient family of is the ability to synchronously acquire multiple analog channels at sample rates up to 50 kHz. The ET-4 can operate as a standalone device recording to internal memory to capture both transient and periodical data.
In the event of a fault, this enables precise identification of the sequence of events in a malfunction. Measurement data can be recorded either continuously or according to trigger conditions and events including the ability to define triggers to record pre- and post-event data. The ET-4 is equipped with powerful FPGA technology that provides extensive on-board intelligence for calculations, logic, and data analysis.
In addition to the 4 analog input channels, the ET-4 has 4 digital inputs to capture pulses, discrete inputs or digital triggers. An extension bus allows the system to be extended to over 100 analog or digital inputs with high-speed synchronization protocols.
Features:
24 Bit A/D for high resolution measurements
4 Analog outputs
8 Digital outputs
Programmable anti-alias filtering
Up to 14GB of local non-volatile memory
Support for USB, NFS, CIFS data storage, and FTP/SFTP file transfer
Gigabit Ethernet interface, optional 802.11 b/g/n Wi-Fi
RS-232, RS-485, CAN, ModBus RTU, ModBus TCP, and PROFIBUS interfaces
Powerful Expansion Software:
Data captured by the ET-4 can be displayed on a PC in trend charts using Delphin's ProfiSignal Go software. Even large volumes of historical data are easy to analyze – Profisignal Go has been optimized to enable large data volumes to be easily processed online. For on-line applications live data can be streamed to a PC via a GB Ethernet or WiFi interface and data recorded in the device's internal storage can be easily downloaded and analyzed offline. Go also features a signal sequence diagram is especially useful in providing an overview of the chronology of a malfunction event.
The Delphin Expert Transient is designed for applications that require high speed acquisition of transient or periodic signals including:
Fault diagnostics on machines, systems and test stands
Evaluation of pressure surges and pulses
Capturing transient voltage or current events in electronic equipment
High-speed process monitoring and controller optimization
Crash, detonation, impact and explosion experiments
Shock and vibration measurement
Materials research and environmental simulation 
For more information on the new Delphin ET-4 data acquisition system, or to find the ideal solution for your application-specific needs, contact a CAS Data Logger Applications Specialist at (800) 956-4437 or visit our website at www.DataLoggerInc.com.
Contact This Company Download Spec Sheet
More from Software