New 3DC14EM-ULP Series Electro-Magnetic Sensors are Designed for Augmented Reality environments
Press Release Summary: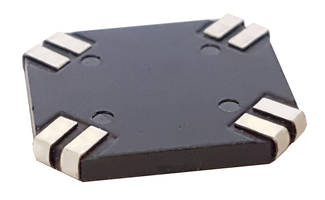 The 3DC14EM-ULP Series Electro-Magnetic Sensors can be integrated into ultra-thin devices such as SmartCard type keyfobs, special miniaturized keyfobs (sport keys) and Smartphones. The sensors come in 12 x 14 x 1.65 mm dimensions in tape and reel. The unit's 3 axes (X-Y-Z) are 100% encapsulated in epoxy that offers full functionality for wakeup, and 6DoF position/orientation. They are compliant to RoHS, REACH and AECQ200 standards for automotive and wearable applications.
---
Original Press Release:
PREMO Launches the 3DC14EM-ULP Series the Most Innovative 3DCoil™ Electro-Magnetic Sensor with only 1.65mm Total Height Profile: Ready to Integrate in Smartphones and Other Devices Such as Key-Fobs, Smartcard-Key-Fob, and Wearables
This innovation is designed for access (passive keyless entry), RTLS and also for immersive 3D virtual experience and tracking in Augmented Reality environments
PREMO, the leading manufacturer of inductive components, has announced the 3DC14EM-ULP Series, the smallest in height (less than 50% of the parts in the market today).
Most of the 3D-electromagnetic sensors in the market has a height around 3.2mm. The smallest height before ULP series was the PREMO 3DC06 invention, with 2.5mm.
The 1.65mm height target has been the biggest challenge during the last 2 years, achieving it by a joint ecosystem development effort between BQ, UC3M University and Premo. The whole project was under the scope of a CDTI Spain research project called ASUMP.
This is a real ultra-low-profile sensor in 12x14x1.65mm total volume dimensions, able to be integrated in ultra-thin devices such as SmartCard type keyfobs, standard automotive keyfobs, special miniaturized keyfobs (sport keys), Smartphones (to be use as a digital key with the same user experience of current PKE access), and other devices such as hand-held controllers where EMMT (electromagnetic motion tracking technology) is used for 6DoF applications: real High precision motion tracking system with no limitation in the line of sight, ultra-low latency, low power consumption, etc.
Cutting edge smartphones includes multiple communication antennas integrated, enabling connectivity capabilities in single device like never before: GPS, Galileo Sat, WIFI, 3G, 4G, 5G, NFC, BT, BLE, Qi Wireless Charging. Low Frequency communication with magnetic fields (RFID, in kHz frequency range) is a connectivity and positioning technology widely using in automotive car access since many years. Nowadays, the digital keyfob integration in smartphones is a pending task for the phone manufacturers. To achieve the same user experience level as current state-of-the-art passive entry keyfobs, the inclusion of a low frequency magnetic field antenna in the smartphone is mandatory. Premo latest innovation, the 3DC14ULP is a specific development focused on this application and device, the smartphone. Lowering the profile was a key factor to be success on this integration and allow users the usage of digital keys for controlling access to their cars.
This part includes 3 axes (X-Y-Z) 100% encapsulated in epoxy to provide full functionality for wakeup, and 6DoF position/orientation even with movement tracking. Premo provide different number of versions concerning quasi and fully isotropic 3DCoilTM configurations, to give solution for trimmed and no trimmed performances.
First version (3DC14EM-ULP-0238J) got samples available by end of September 2018, ready to work at 125 and 134.2kHz frequencies.
The 3DC14ULP Series features ultra-low profile height value – less than 1.7mm – and is fully isotropic. These parts will be delivered in tape & reel for SMT pick & place according to EIA 481 (1000 pcs/reel). It has been engineered to be RoHS and REACH compliant and has been also tested to endurance in conformity with AECQ200 for automotive and wearable applications.
Its size is 50% smaller than all competitor 3DCoils products in the market, when combined with PREMO 3DcoilCube specific Emitter Antennas its able to sense magnetic field up to 8 meters distance (1-2m in short range, 3-5m in mid-range, and 6-8m and beyond with ultra long-range).
About PREMO
PREMO is a Spain-based company engaged in the development, manufacture, and sale of electronic components with special focus on the key enabling technologies of the 4th Industrial Revolution: IoT, M2M, VR, Connected and Electric Vehicles.
Our product portfolio includes RFID antennas (worldwide leader), AR/ VR Motion Tracking Sensors, power transformers, inductors & chokes, current sensors, EMC filters, and PLC components. In addition to our broad range of standard components, off-the-shelf products, PREMO also designs custom solutions to fit customer requirements, based on the latest technologies to help your systems be more efficient.
Over 1500 employees with 5 design centers and 3 production locations and an extensive sales network let PREMO have a global presence in more than 36 countries to meet our customers specific needs.
56 years being a preferred supplier because of our strong commitment to business excellence, engineering support, reliable delivery and the quality of our products. www.grupopremo.com
Press Contact:
Rocío Arrupe
PREMO S.A.
Severo Ochoa, 47
Parque Tecnológico de Andalucía
29590 Campanillas
Málaga, Spain
T.: +34 951 231 320 - Ext 6
F.: +34 951 231 321
More from Computer Hardware & Peripherals